If you are in the process of shopping for new window sills, then there is a good chance that you have run into a little bit of trouble when it comes to finding the right sills that are also within your price range. The good news is that there is a reputable company with loads of experience and specialization in not only window sills, but window thresholds as well. At Stonexchange, you can be sure to find the specific window sill you are looking for to install in your home. We offer a wide variety of materials when it comes to our window sills, such as Travertine, Carrara, Cream Sahara Marfil, Black Granite, and any other finish that you have in mind for your next home project.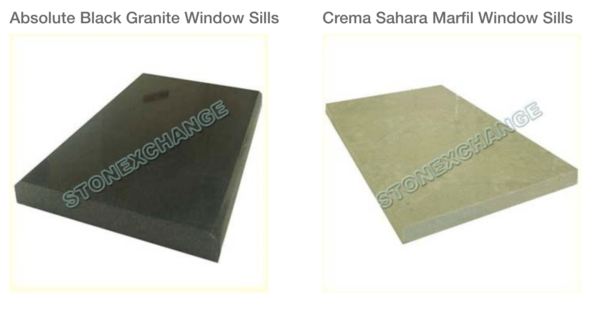 Tip For Installing Your Own Window Sill
If you are purchasing window sills in the near future, it is also a good idea to save costs by knowing how to install them on your own. Otherwise, you could end up having to pay a serious amount of money to have a professional company come out and take care of the job for you. Installing window sills can be easier than you think and will give you the added satisfaction of touting your new skills when showing off the finished project to onlookers and admirers.
Measure Your Windows
Before you even purchase your window sill, you are going to need to take the time and make some measurements of your windows in order to figure out the correct size that you are looking for. Usually, a window sill hangs over each side of the window, so it is a good rule of thumb to add one inch to either side of the length of the sill so you can ensure that the cut of the stone is large enough.
Custom Cut Materials For the Window Sill
Once you know the measurements of the sill you need, you can often have these custom cut for you. If your window is a standard size, then you will likely not need to have this custom done, most suppliers should have some already in stock to fit your window size. However, before you purchase a sill, you are going to need to commit to the material of your choice whether it is a rustic wood or something harder and more elegant, such as granite or marble.
Find the Right Materials
Once you selected your perfect material and fit, you will need the supplemental supplies to install. This will include a strong adhesive glue, the window sill itself, a shelf (used to hold the sill), and possibly some finishing nails (if it is made out of anything harder than wood, you will not want to use nails). You are also going to need some basic cleaning supplies, such as a rag or towel and a spray cleaner that is safe to use on walls.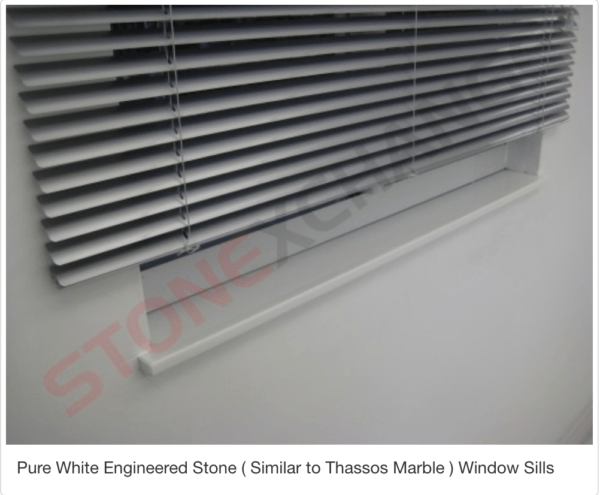 Steps to Install Your Own Window Sill
Once you have all the materials that you need to install the window sill:
1. Start by cleaning the area where the sill is to be installed with a standard cleaner. Spray the wall area down and wipe it up with a clean towel. This will prepare the wall for the strong adhesive that you will be applying to it later on.
2. Using a level, set up the shelf to be installed. You need to ensure that it is perfectly level so that the window sill will not look crooked. Drill the necessary holes in the wall that will be used to hang the shelf.
3. Next, you need to install the apron of the sill, which is the bottom portion that is usually decorative. This is typically done with the adhesive glue, which you can buy at your local home supply store. Simply use the adhesive, applying it to the back of the sill and then pushing it into place. It is a good idea to read the instructions on the back of the adhesive to figure out how long it will need to dry and whether or not you should apply any pressure to the sill.
4. Once you have done this and let the adhesive dry, then you will have successfully installed your window sill. You can repeat this process for any other sills that you may have to install, as well. The average amount of time that each sill typically takes is about twenty minutes, though this can vary depending on your amount of experience and how long it takes you to level the sill.
Enjoy Your New Windowsill from Stonexchange
Overall, learning how to install a window sill may seem like a daunting task at first, but if you simply follow the steps above, you will find that it is not very difficult. Not to mention, with any of our stones, your window sills will look great once it is all said and done.
Still Have Questions on How to Install Window Sills?
Put your own custom touch on every window sill by using premium quality materials available at Stonexchange. We are one of the most trusted windowsills, threshold, and soap shelf manufacturers as well as distributors. Our experts at Stonexchange are ready to answer any questions you may have about installing window sills or anything related to our process. As a manufacturer, we are always giving the best wholesale prices for your windowsill needs. Don't hesitate to contact us online to speak to a Stonexhange expert.