When looking at window sill renovation, you may wonder, "How necessary are they in a home?" The answer may surprise you. They are more than aesthetic trim that can increase a house's value. They are essential for window structure and water protection.
What is Window Sill ?
 The window sill is the horizontal base of a window frame. As an integral part of any window, the sill can be the same size as the window or substantially larger. Please don't confuse it with the window stool, which is part of the window commonly called the window sill.
The sill of the window is the bottom horizontal portion of the window. Sills can be on the interior or exterior of the home. They can add visual interest to your home and also serve to keep the rain, wind, or snow out of your home while making the window fixture more energy efficient. The stool is the more visible piece of marble or stone attached to the window sill that you might sit your plants on.
How Are Window Sills Installed?
Sills are applied at the inside base of a window to serve as a shallow shelf to finish off a window treatment or to be a shelf for small objects and plants. Some contractors design them to catch any moisture in case of rain or excess humidity in tropical areas.
In other cases, some sills are entirely flat and mount directly to the jamb. They add several benefits ranging from their aesthetic appeal to the added value to your home.
For more information please read our "How to Install Windowsills" blog post.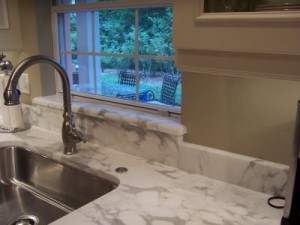 Why Should You Install An Exterior Or Interior Window Sill?
Read on to learn some of the best arguments for installing a window sill with a professional. If you are looking for a manufacturer to supply window sill and thresholds for a large construction project, please contact us today.
Structural Integrity
Traditional and modern window sills contribute to the window's structural integrity. The rigid sill on the bottom helps eliminate flexing so that the fixture can last longer. The sill only needs to be as deep as the window, but you can bump it out on either side to make it more attractive.
The exterior window sill takes quite a beating when enduring different weather conditions. If your window sills are old and rusted out, they are easy enough to replace. They can last for decades if you keep them clean and protect them with a coat of paint. But rot can take hold when water gets trapped in or against them, as happens with improperly flashed windows. You don't have to replace the whole window frame. A simple epoxy repair will do the trick if the rot is confined to a small area, but if more than 10 percent of the sill is rotten, the old sill should be cut off and replaced.
Exterior Water Protection
If you've ever watched a water drop travel down a wall or at an angle, then you know that it has the unique ability to cling to one surface before succumbing to gravity. In fact, water sitting at a precipice can travel a short distance on the underside of the ledge. This risk is why windows and sills are typically designed with a projection of at least 20 millimeters. This creates a more prominent horizontal surface so that water drops will break free before they can migrate into the structure.
This overhang is vital to protect the wall from water intrusion on the exterior of a home. This is how builders protect the brickwork beneath a window from spalling, and it will also keep wood siding from rotting in this area. When you go with a stone window sill with a larger span, you can effectively protect your home from water and keep it looking great. The ideal projection is actually 30 to 50 millimeters. The sill only needs a minimal slope to encourage water to drain neatly away from the fixture.
Improved Energy Efficiency
Eliminate drafts to keep your home warmer and cooler in the summer. The window frame will have a solid barrier along the bottom, and you can easily run quality insulation right up to the window sill inside the wall. This allows you to achieve better acoustic and thermal insulation so that your home will be quieter and more energy efficient.
Since the interior window sill is part of the window trim –which also includes the head casing, side jambs, and the apron– the piece attached to the wall beneath the sill each plays a part in keeping the window structurally sound and the elements out for maintaining energy efficiency.
A Few Options For Energy Efficiency
With the demand for energy-efficient windows, the National Fenestration Rating Council has designed an energy-performance label for those searching for the perfect window sill. NFRC Certified (upper left corner) indicates that the NFRC has licensed the window's manufacturer and certified the window's performance to their standards. With different climates to consider, checking the label before ordering the window can significantly affect how much the window might keep energy costs to a minimum.
Why Installation For Window Ledges And Sills Is Essential
Even the most expensive window sill unit won't perform well if a contractor skimps on the installation quality. Be warned of any contractor who relies too heavily on expanding foams or sealants to get a window to fit well as these materials aren't waterproof and can lead to problems down the road. 
Flashing and proper caulking may be the cheapest parts of window installation, but if not done with an eye for detail, the ensuing water leaks will cause a barrage of problems that one could easily prevent. Pre-installation waterproofing, often completed long before installation, is the best option to ensure a long-lasting window sill that performs the best it can.
Reclaim The Space
In modern designs, many home builders are eliminating the decorative window sill. They are using flush stools effectively covered up by the window trim or apron. However, you don't have to accept this method for your home. Whether you're building a new or renovating an older home, you can add window sill throughout the space. Window sills provide you with extra storage space, and they're perfect for:
Seasonal decorations

Small plants and herbs

Electric candles

Family photos
If you've been feeling like your windows are missing something, it may be the traditional sill that protruded slightly into the room. Here at Stonexchange, we have sills available in a range of widths. Our stock Absolute Black Granite window sill are all six inches deep, so you can have the right protrusion inside and outside the home. However, our Pure White sills are available in 5″, 6″, 8″, 10″, and 18″ depths. 
Choosing The Right Material
Once you upgrade your projects with the actual window sill, you'll need to choose a suitable material. Budget and aesthetics factor into this decision.
Wooden Window Sills
Wood is an obvious option because it's used in many other home areas, but wood is prone to rot and water damage. Your clients may not want to deal with the extra maintenance that comes with a wood window sill. Metal sills are available for exterior use, but people may not like the noise that results from every time it rains.
Vinyl Window Sills
Vinyl is now available, and it can be a viable choice. It is waterproof and scratch resistant while remaining affordable. The challenge with vinyl is getting it to match the other building materials. You have to look at color and texture to determine the final look.
Natural Stone Window Sills
Natural stone beats other materials because it's durable, attractive, and versatile. It's not damaged by the sun or rain, and homeowners can care for it easily. Give your clients this choice, and they'll be impressed with your commitment to excellence.
Go Larger With Installation
The most functional and versatile window sill is actually quite deep. Such depth allows the sills to extend into the room to form a floating shelf. The apron below helps support these window sills; you can also use brackets if necessary. These sills provide you with more decorating and design options. If you're worried about people walking into them, consider having the corners rounded off for a soft and welcoming finish.
The natural stone finish will look great, and you'll love the extra versatility. If you're worried about the sill jutting into the room too far, have the window installed at the outside edge of the wall so that you'll have more of the window sill exposed on the interior. You can get the added storage space without bringing the ledge too far into the room. This benefit is particularly effective when you finish off bathroom or dining area windows. 
StoneXchange: Your Source For Window Sills
Make your creations stand out from modern competitors by going old school with window finishes. It may be faster to install basic double-hung windows that finish with a simple frame, but your clients do not seek that.
Most people appreciate the elegant window sill's added storage space and architectural style. Merging practicality and interior design invigorates homeowners. You can make a great impression by going with natural stone options. We carry window sill in black granite, Carrara Marble, Crema Marfil, Pure White, and Travertine.
Install Your Perfect Window Sills With Multiple Options From StoneXChange
The team at Stonexchange is looking forward to helping you, and you're sure to be pleased with our quality options. With our help, you can take your finishes to a higher level and ensure that your company's name is synonymous with quality and elegance.
Are you ready to learn more about interior and exterior window sill options for luxury homes? Please reach out to us today. Contact us now to get your quote today. You can place your bulk order immediately for any stone window sill.