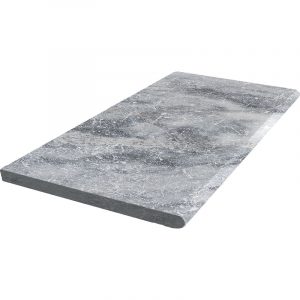 There is no question that thresholds made from natural stone are the best for providing the right transition from one living space to the next. Door thresholds are also known as saddles; they were traditionally made of wood until metal pieces were designed for commercial properties where considerable foot traffic is expected. The reality of door saddles is that they are superior when they are made of quality natural stone, and this is why many of our clients prefer the gray marble threshold we offer at wholesale prices.
Choosing Gray Marble Thresholds for Your Projects
Natural stone is a construction material that has been used since ancient times. The impressive structures built at the height of the Roman Empire were primarily made with natural stone extracted from quarries specifically selected by stonemasons appointed by the imperial court. Since marble was considered to be among the finest of natural stones, it was often used for sculptures, columns, and other decorative elements.
With marble door saddles, you not only get the classical beauty of this natural stone but also the durability to stand foot and wheelchair traffic. You have probably seen aluminum thresholds that become dented or hopelessly discolored over time; this is less likely to happen with marble pieces. At Stonexchange, we offer engineered and natural stone thresholds, but most of our clients prefer marble over granite or travertine.
Quality Gray Marble Thresholds from Stonexchange
One of our best-selling pieces is Bardiglio gray marble thresholds. Bardiglio marble comes from various quarries in the Tuscany region of Italy; the color of the blocks range between off-white to dark gray, and they feature very interesting veining as well as patterns. This kind of marble is often used for highlight pieces such as backsplash panels, fireplace surrounds, and entire accent walls. The looks of high-quality gray marble thresholds make them ideal for just about any interior design project.
If you need to provide a smooth transition between living spaces that have ceramic, porcelain, or natural stone tiles, you will probably want our Bardiglio gray marble thresholds because of their stylish appearance. When the surface of Bardiglio marble is honed and polished, it can enhance the look of any interior design project. As for durability, gray marble thresholds can support considerable weight, and they will not stain easily thanks to the impregnating seal that is part of the surface finish.
If you are working on commercial projects subject to compliance provisions of the Americans With Disabilities Act, you will be glad to know that the gray marble thresholds we produce are cut with bevels designed to allow wheelchairs to roll over them; moreover, they are the right height for visually impaired individuals to detect with their support canes.
Learn More About Gray Marble Thresholds
At Stonexchange, we specialize in thresholds, window sills, and other natural stone pieces for wholesale distributors and contractors. If you are a retail customer interested in our gray marble thresholds, you can always contact our office so that we can connect you with a dealer in your area. We are able to ship crates as well as entire containers across the United States.