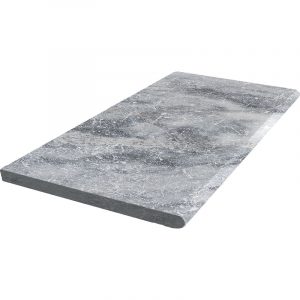 When South Florida residents travel to the south of France or other regions in the Mediterranean coast, they notice some familiar aspects of residential architecture. This can be explained by the trend known as the Mediterranean revival. 
In Florida, Addison Mizner and John Ringling are remembered for extending this style. It was once reserved for commercial spaces and government buildings, to residential neighborhoods. French doors are one of the elements of this architectural style, and they are very attractive for sunny climates.
What Are French Doors?
In essence, a French door is like a large window complete with glass panes, but you can walk through them. They originated in the French Riviera and quickly caught on among home builders in Paris and across the provinces. In South Florida, when we see real estate listings that mention both French doors and French windows, they are likely glass doors and ornamental window frames.
Marble Threshold For French Door
A threshold is the space at the bottom of the door frame that transitions between living spaces. Thresholds tend to be raised for various purposes, and those made of marble are popular across South Florida.
What Are The Benefits of Marble Door Threshold?
The three benefits of marble door thresholds are:
* They provide smooth transitions.
* They act as barriers to prevent water spilling from one space to the other.
* Since they are highly decorative, they are the perfect complement to French doors.
Wide Variety of Colors
Marble is formed through various geological processes that last millions of years. The result of these processes is a colorful and capricious natural stone with a variety of colors and patterns. At Stonexchange, our marble threshold comes in colors such as pure white, creamy ivory, patterned gray, limestone brown, and more. As a decorative construction material, you can't go wrong with marble.
Select A Dimension That Is Closest To Your Doors
The widths of the marble threshold pieces run from two to six inches. The standard for residential construction is two inches while most commercial projects are at least four inches wide. In addition to the threshold width, other dimensions to consider are the height and the bevel. You can go as high as 3/4 of an inch, but 3/8 is more common. 
As for the bevel, which is an easement of the edge, the standard is 1/4 of an inch. You can also choose double Hollywood beveled thresholds that are more aesthetic. The thresholds also allow the smooth rolling of wheelchairs over them.
Learn More About French Doors At Stonexchange
At Stonexchange, we will be happy to answer your questions about sills and thresholds for French doors and windows. We are a provider of wholesale products. In addition, we can direct you to the nearest distributor or contractor who carries and installs our products. 
If you have questions about the thresholds that are compliant with the Americans with Disabilities Act (ADA), we can help you select the right thresholds according to federal provisions. Contact our office in Miami today.