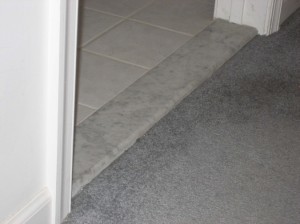 Connecting rooms with different flooring heights can be difficult to navigate. The right materials are required to avoid gaps and breakage. Metal strips aren't beautiful, and customizing wood to handle the height difference requires special tools and skills.
However, there is an easy and attractive solution available for you. Whether you're finishing off the kitchen in ceramic and want wood in the living room or using natural stones throughout the space, you can use marble and travertine thresholds specially designed to offset height differences and smooth out this transition.
Is It Possible For Floor Height To Be Different?
Differences in floor height are relatively uncommon, but they do happen for one of several reasons. Perhaps the most common is due to a change in the underlying geometry of the ground underneath a building, which would necessitate a closer look at whether or not the foundation is sound. Otherwise, though, you might run into height differences whenever you put an addition onto a house or build an attachment between two varying structures.
Manufactured homes with addition are an excellent example of this, but they can occur in all types of construction. At STONEXCHANGE, we've done our best to stock various products that should make it easier to alleviate these problems to a degree.
Height Between Floors
Any difference in height between two floors can be something of an issue, but you usually shouldn't find any difference more significant, maybe ¾" in most instances. Those who have somethimore significantter than this might be looking at more severe problems that they'd want to shore up.
Public buildings could have to deal with regulatory compliance problems if they're looking at anything that's got that much deviance between the two floors. However, you can generally raise thelower floor levelr by building a structure on top of it and placing some material over it. Once you do, you'll be in a better position to put up actual thresholds that will make it easy to get over the dividing line between the two disparate rooms.
The Maximum Height Difference Between Floors
Contractors disagree about the maximum allowable height difference between floors in different areas. Still, at most it shouldn't get worse than ½-¾" because it starts to get unmanageable at that point. Some private residences can have a 2-3″ difference and still be reasonable, especially if they're in a manufactured house. These tend to have a greater tolerance for drops. Those who have more significant differences will want to consider some repairs.
8 Inch Height Difference
You'd normally only see 8″ differences when building a set of stairs or putting in the entryway of a home. If that's the case, then you might want to consider a series of less steep steps to help you get up the walk. Some stone thresholds may still be helpful when it comes time to separate one side of the flooring material from the other.
6 Inctypicallyht Difference
While some people might be comfortable with a drop of around a half foot, this is usually still a good place to install a ramp or some sort of stairs. In some cases, homeowners may want to raise the lower s,ide so the floors are flush and then install a threshold between the two of them.
4 Inch Height Difference
This difference is at least somewhat familiar between two rooms when you're working with a house with an addition. Installing a threshold on the end of the taller floor might be a good idea to help hold the existing flooring material in place.
2 Inch Height Difference
These differences are pretty common in spite of the fact that contractors usually do their best to avoid them. If you're looking at something like this, then you might want to shore up one side of the difference and install a threshold on the other taller side to reduce the risk of the flooring material coming up over time.
Direct Installation With Floor
Unlike other transition strips, natural stone styles are made to be installed directly on the wood or concrete subfloor. They're available in different widths, including 2", 4", 5", and 6" so that they'll fit neatly in most doorways. You'll have the stability you require, along with a clean material change from one room to the next.
If you're working with an open floor plan, then you can choose the width that looks the best and install long lengths end-to-end to fill the space. The 2-inch tiles are only 3/8" thick, and the wider tiles are all 5/8" thick. Width availability may vary depending on the type of threshold you choose, but we're pleased to take custom orders so that you can get the exact color and style that you require.
Standard Double Bevel
When floors are close to equal heights, the standard double bevel style will smooth out any minor variances. These long, narrow tiles have a ¼-inch bevel on the top edge of both sides. If you have flooring that's just shy of 5/8-inch thick on one side, the beveled edge will ease the transition and make it virtually invisible.
If the floors are equal in height, then you'll have a completely smooth move from one floor to the other. There's no additional weight added to your marble in the bathroom or the wood in your hallway, so you won't have to worry about the flooring materials being cracked or chipped from the foot traffic.
Single Hollywood Bevel
The Hollywood bevel has a steeper and wider angle than double-beveled styles. The beveling starts on one side and comes about halfway across the tile, so this style is only available in larger widths. It's ideal for large open areas where you're making the transition from a carpeted living room to the hardwood or marble in your dining room.
Choose between 4"-6" widths so that you can customize the perfect look. The high square side will be 5/8-inch tall, and the opposite edge will drop down to 3/8-inch. This makes it ideal for handling the transition from Berber carpeting or thin ceramic to a thicker hardwood or natural stone floor.
The Hollywood bevel is available in four different colors. Choose from black granite, Crema Sahara Marfil, Pure White Thazoz, and Nuevo White Carrara. The smooth angle also makes them a great choice for homes where wheelchairs or walkers will need to move across the threshold.
The Double Bevel
Available in Pure White Thazoz, Crema Sahara Marfil, Absolute Black Granite, and Nuevo White Carrara, the double-beveled threshold is typically offered in 4" and 6" widths. Some colors are only made in the narrower models, but we are happy to fill custom orders. Like Crema Sahara Marfil, other shades are made in 4", 4.5", 5", and 6" widths.
These beveled tiles are 5/8" tall at the center, and they drop down to 3/8" on each side. These are the right choice for showers, damp areas, and exterior thresholds where you want to have a raised center area to keep air and water out of the adjoining room. The angled sides ensure that people can easily step into the room without tripping on a square lip. Doors will also function smoothly thanks to the smooth angles on either side of the stone.
Neutral Colors For All Types of Floors
Thresholds are available in a range of beautiful neutral colors that will suit all types of décor. You can go with stunning black granite for those modern finishes, or opt for Pure White Thazoz with your bright decorating schemes. Stonexchange also carries Crema Sahara Marfil thresholds in a light tan color that will suit most natural woods and all types of ceramics.
Travertine is also an attractive choice when you're working with earth tones and want a slightly darker shade of tan. Finally, White Carrara is a stunning choice when you're working with high-end marble and want something that will seamlessly make the switch from one flooring style to another.
Save With Wholesale Pricing
Whether you're focusing on custom homes or commercial centers, you'll want to have a good selection of thresholds on hand. When you order the different styles in a range of colors, then you'll have what you need to meet all of your customers' needs. We can provide you with different lengths to accommodate all types of projects. We offer wholesale pricing that will keep your costs down and help you improve profit margins.
When you're dealing with different flooring heights, there are a few otheroptions to consider. The thresholds can be used to help minimize the difference and ensure a safe transition. Blunt edges are eliminated to reduce tripping hazards, and there are several colors to choose from for your projects.
Start Your Home Improvement WIth StoneXChange
Stonexchange offers bulk orders, and we encourage people to stock up ahead of time so that the thresholds will always be ready to go. If you are working on a larger project, you can have the thresholds shipped directly to your worksite.
Visit us online to learn more about our services and see the different styles. If you have any other questions, then make sure to contact us online today.