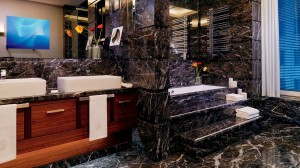 Black marble thresholds can add a touch of elegance and luxury to any interior design or renovation project. They are a luxurious, dark material that can set the tone for a room.
Available in a variety of styles and colors, black marble is perfect for creating an elegant, timeless look. We have black marble thresholds available at wholesale prices. You can save money while adding value to your home. 
Why Buy Black Marble At Wholesale?
First, black marble is a luxurious and elegant material that can add value to your home. Second, black marble is available in various styles and colors so that you can find the perfect threshold for your project. And finally, black marble thresholds are available at discounted prices so that you can save money on your renovation or construction project.
Complementary Color Schemes
The threshold doesn't have to match the floor perfectly. Contrasting colors are an appealing choice and can become part of the overall design. Match the threshold color to inset diamonds in the tile floor, or coordinate them with the towel holder and other fixtures in the room. It's important to work the threshold into the overall design carefully, which means choosing something attractive and adding to the overall décor.
One of the most remarkable things about these color schemes is that they're at least somewhat interchangeable, which can translate into lower upfront costs when designing a particular room that might have to be reproduced among all the buildings in a specific development. Black Galaxy Granite and China Black products are gorgeous, but they can be expensive. Having to put them into every single building on a lot can quickly increase costs, which might ultimately overrun the initial budget.
Fortunately, Absolute Black Granite can be used in place of these types of stone because it's essentially the same material. While the name might be slightly different, the underlying rock is still the same. The stone is a good pick for those wanting to find a way to reduce the costs of high-end development projects. Such projects specify the use of certain materials directly in the planning documents without compromising the integrity of the construction itself.
Tie It All Together
You can create a unified look and feel in key locations in your space. Black marble thresholds add unity to a room. Black is a versatile color that can be matched with various other colors and styles, making it the perfect choice for any renovation or construction project.
Homebuyers and customers hiring contractors want to work with a team that pays attention to the little details. They notice more than you might think as they review a portfolio or walk through a model home. One thing that impresses them is seeing that everything is neatly tied together. 
Match the shower threshold perfectly to the bench seat in the corner of the shower. Another option is to match the floor thresholds to the window sills. Whether you finish a room with modern black thresholds and trim or beautiful travertine, your client base will notice this little detail, and it will make a great impression on them.
Find Top-Quality Marble Thresholds At Stonexchange
Stonexchange carries several colors of beautiful marble and travertine thresholds. We work with reliable quarries and experienced manufacturing centers to ensure that we can order more marble for you whenever you need to replenish your stock. You can count on us for high-quality marble at competitive prices. 
Special orders are welcome, and we take great care in packing and shipping to protect the stock. Contact us when you're ready to add marble thresholds to your projects and take your business to the next level.