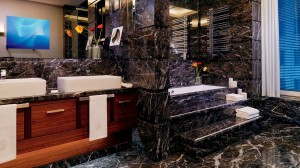 Elegant marble thresholds are the ideal choice for making the transition between areas. They're durable, stylish, and very elegant. Your customers will appreciate the upscale touch, and you'll appreciate how they reflect on your renovating or contracting business. Before you stock up on regular wood thresholds, consider these clever ways to incorporate sleek black marble and other marble colors into a room.
Seamless Transitions
Traditional thresholds are made of wood, but that's not a good blend with a beautiful marble floor. When you're installing a stunning tile floor that features colorful patterns and impressive veining, you want a transition that matches the theme and creates a seamless finish. The beauty of marble thresholds is that they blend with upscale flooring options to create an incredible finished look, so you'll never have a transition that looks like an afterthought.
Greater Stability
The tiles right along a threshold are prone to breaking if they aren't protected. Wood and metal can twist and flex as people walk on them. If this movement presses against the tile, it can undermine the stability of the tiles and lead to cracking. 
The best way to form stability along a threshold and protect it is with marble. This material will not bend or flex. With the proper support beneath it, it can hold an incredible amount of weight without cracking. This prevents damage to the threshold and the surrounding materials. 
Customers will notice the marble thresholds and appreciate the upscale addition in the short term. As the years wear on and your work is still intact and beautiful, they'll also appreciate the durability and stability.
Handicapped Accessibility
Handicapped accessible features are a selling point in any home. Even if you aren't building properties made explicitlyeasy to navigate thresholds for people with limited mobility, buyers still appreciate having wider doorways, thresholds that are easy to navigate, and other intelligent features. The ability to market a property as "handicap friendly" also helps you reach a larger market share. 
Freestanding showers with separate bathtubs are a popular feature in upscale homes. With black marble thresholds, you can add these showers and minimize the entry barrier. The raised threshold will hold water back, but a wheelchair can still glide over the surface. With beveled edges, the thresholds also won't pose problems for people in walkers who will use the shower.
Commercial property developers also have to take this issue very seriously as ADA compliance is often a legal requirement, not to mention simply a good set of guidelines to follow for accessibility's sake.
Matching Threshold And Baseboard
Buyers are looking for homes that are easy to maintain and energy-efficient. One great benefit of tile and marble baseboard is that it never needs painting, and it's easy to clean. These options are top-rated in kitchens and bathrooms where the floors will get wet. 
If you're considering upscale options for the trim, carry the theme through to the thresholds. We carry beautiful marble thresholds in white, tan, and stunning black, so you can match the threshold to the baseboards throughout the room. Customers will appreciate the upscale addition, and they'll also love how the bold color clearly defines a space and makes it feel larger.
Unlike many other materials, marble shouldn't experience a dramatic change in coloration over time. Some types of thresholds might look decent at first and then slowly discolor over time until they no longer match the baseboard. 
By using a long-lasting material like natural stone, you could be sure that you're not going to run into these same problems. Consider something like Botticino marble if you want a neutral tone that helps to even out the transition between multiple areas of flooring.
Complementary Color Schemes
The threshold doesn't have to perfectly match the floor. Contrasting colors are an appealing choice, and they can become part of the overall design. Match the threshold color to inset diamonds in the tile floor, or coordinate them with the towel holder and other fixtures in the room. It's important to carefully work the threshold into the overall design, and that means choosing something that's attractive and will add to the overall décor.
One of the nicest things about these color schemes is the fact that they're at least somewhat interchangeable, which can translate into lower upfront costs when you're designing a particular room that might have to be reproduced among all of the buildings in a particular development. Black Galaxy Granite and China Black products are absolutely gorgeous, but they can be rather expensive. Having to put them into every single building on a lot can quickly increase costs, which might ultimately overrun the initial budget.
Fortunately, Absolute Black Granite can be used in place of these types of stone because it's essentially the same material. While the name might be a little different, the underlying stone is still the same, thus making this a good pick for those who've been wanting to find a way to reduce the costs of high-end development projects that specify the use of certain materials directly in the planning documents without in any way compromising the integrity of the construction itself.
Tie It All Together
Homebuyers and customers hiring contractors want to work with a team that pays attention to the little details. They notice more than you might think as they review a portfolio or walk through a model home. One thing that impresses them is seeing that everything is neatly tied together. 
Match the shower threshold perfectly to the bench seat in the corner of the shower. Another option is to match the floor thresholds to the window sills. Whether you choose to finish a room with modern black thresholds and trim or beautiful travertine, your client base will notice this little detail, and it will make a great impression on them.
Raised Thresholds
While low thresholds are ideal for easy access, some customers want higher thresholds in case the drain is ever clogged. If the rest of the bathroom floor is wood or another material that should not get wet, then you don't want to take chances with a low threshold. 
In this case, you can construct a raised threshold and top it off with a continuous line of marble. The room will still look incredible, but your customers can rest easy knowing that their floor will be protected from any water. Black marble looks particularly stunning on raised thresholds because it highlights the tiles on the sides and creates a strong visual boundary.
Clear Boundaries
Highlight a clever architectural feature like an angled doorway while creating clearly marked boundaries. The sharp contrast between the threshold and surrounding materials will draw attention to the smart architectural feature. 
At the same time, it serves to clearly define the space and mark where one room ends and space beyond begins. The black color can be carried into the room through other accent pieces to keep everything tied together, and it's an easy way to make a powerful statement.
When you have two disparate kinds of flooring, you certainly want to make some kind of transition between them. Typically, construction managers will specify the least expensive material, which is generally a small piece of metal stripping. 
While this might look like it has a lower upfront cost than most other options, it'll have to be replaced in the future so it doesn't add much value to the property. Marble thresholds have a drastically longer lifespan. 
At the same time, they add value to the room that's being worked on. Best of all, they don't cost anywhere near as much as you might think they do in spite of the fact that other materials are normally specified.
Built-in Shower Shelves
Showers with tiled walls and floors are a popular trend currently, but buyers want storage space in the shower, also. They're looking for homes that have smart storage solutions, including shelves in the shower wall for their shampoo and soap.
 You could finish off a recessed storage area with matching tiles, but a marble base will make a better impression on customers. They'll be impressed with the sophisticated touch and your attention to detail. Ideal layouts will incorporate several different hues, which is precisely why there are so many options for these as well.
You can find natural stone soap shelves constructed as what are essentially tile bullnoses in a variety of types of stone. Perhaps the most dramatic will indeed be from the same kind of Absolute Black Granite that you've come to expect is the epitome of so many darker hued marble designs, in spite of the fact that granite technically is a different type of stone. 
On top of this, however, you'll want to check out walnut and ivory shades of travertine, which are an excellent fit for countless situations where people are looking for a relatively neutral shade. There are so many different types, in fact, that you could theoretically position these into almost any kind of setting.
An Addition To Every Room
Marble is ideally suited to bathroom renovations because it's waterproof and durable. However, it will work beautifully in any room.
 Use marble windowsills that are durable and more attractive than wood. Choose marble to make the transition from a wood floor in the foyer to the living room. Use black marble at the kitchen transitions for a flooring choice that's beautiful and easy to clean. 
Potential buyers will notice these little additions throughout the structure, and they'll be impressed with your dedication to quality and commitment to the fine details. When you decide to add marble to your renovation and construction projects, you need to work with a team that can handle all of your marble needs. 
Find Top-Quality Marble Thresholds At Stonexchange
Stonexchange carries several colors of beautiful marble and travertine thresholds. We work with reliable quarries and experienced manufacturing centers to ensure that we can order more marble for you whenever you need to replenish your stock. You can count on us for high-quality marble at competitive prices. 
Special orders are welcome, and we take great care in our packing and shipping to protect the stock. Contact us when you're ready to add marble thresholds to your projects and take your business to the next level.