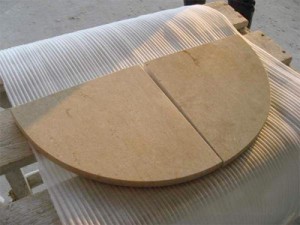 Stores are filled with organizer trays for the shower; homeowners can buy hanging racks that attach to the showerhead, pressure mounted poles and even suction shelves. While all of these are effective, none are as attractive as corner shelves made from elegant marble. Carefully installed along with the tiles of your choice, they create extra storage in the shower without taking away from the elegant look. In addition to using soap shelves in the shower, they can also be used in other areas of the bathroom or even kitchen to add style and luxury while creating valuable additional storage. Here are a few design ideas for working these shelves into your next project.
Available Options and In-Stock Inventory
StonExchange is proud to carry a consistent inventory of shelves and shower seats. Shelves are cut in a quarter-circle that is nine-inches across, and they're readily available in carrara, travertine, crema marfil, absolute black and pure white. The travertine shower seat is 18-inches deep and comes in a range of widths. You can purchase these from our warehouse in Miami, or you can also place special orders if you're working on a large project and will use the shelves throughout the space.
Balance the Corners
Put a shelf in each corner at about shoulder height. This will limit the amount of water that collects on the shelf while keeping everything within easy reach. Installing the shelves on either side creates a balanced look that your clients are sure to appreciate. Rather than putting them at the same height, you may decide to place one higher than the other by a foot or more. This creates a spot for shampoo on one side while letting parents with young children put toys or other child-safe items on the lower shelf.
The Vertical Row
One shelf is functional, but two or more will be in higher demand. Install a row of two or three shelves to ensure that people have all the storage they need. Keep the spacing even for a clean look. In your model homes, highlight this feature by either using contrasting colors for the shelves or putting little signs on them when the house is set for viewing.
The Shelf and Seat
Most marble shower benches are installed in handicapped-accessible bathrooms to make them more versatile, but there's another use you may not have considered. Rather than going with a low seat, put it a little higher to create one large shelf at either end of the shower. Carry the pattern up the wall by installing a vertical row of shelves directly above.
Window Seats in All Areas of the Home
If you're building a property with window seats, go for marble sills and seats that can handle the weight and will look amazing. Bench seats designed for the shower are also appropriate for little reading nooks in the living room and window seats in your breakfast nook. The marble won't fade like paint or turn yellow like some PVC materials, and the marble can last a lifetime. It's non-porous to prevent water damage, and it's available in lovely travertine that will match most decors and home styles.

Around the Mirror
Many bathrooms have a mirror that sits close to the corner. While the simplest finish involves running the mirror right to the wall, a better option may be to leave about a foot in between the mirror and the corner so that you can add a row of shelves over the vanity. People are always searching for more storage in the bathroom, and including this feature will make it easy for them to display their favorite colognes or scented candles. Another option is to put a corner shelf right at the base of the mirror in the corner, or you can mount them in the corner of the bathroom near the window. Regardless of where you place the rounded shelves, potential buyers will be impressed with the attention to detail. Match the shelves in this situation to the predominant woodwork in the bathroom to make them a neutral finishing touch that will match any type of décor the homeowner chooses.
Out on the Patio
Polished marble is non-porous, and this makes it a top choice for exterior applications where it's bound to get wet. Use the corner shelves in an outdoor kitchen or even in a corner of the patio. This finishing touch looks best with brick structures, but it can also work nicely with fiber cement siding. If you're putting natural stone on the façade around the front door, then these shelves are a natural choice for the new homeowner to display some seasonal items or plaques.
Over the Bathtub
Another growing trend is the use of bathtubs and separate shower stalls. If your design plans include luxurious garden tubs, then these corner shelves are a necessary addition. Put two in each corner over the tub so that people can easily store their powders and potions without cluttering up the tub surround. It creates a clean, polished look that you won't be able to obtain otherwise.

In the Kitchen
These shelves are also highly functional in the kitchen. As you install cabinets on a wall that features a window, leave enough space between the cabinet and window for a curved marble shelf. The gentle arc makes a beautiful transition from the cabinet to the window trim. Finish off the backsplash in tile to help support the shelves, and you'll have a decorative storage area that's timeless, easy to maintain and elegant. You can also use the same finishing touch for cabinets near doorways where you want to ease the transition and minimize sharp edges.
Consider the Colors
Regardless of where you use the shelves, take the time to consider your color options. Monochromatic themes that use the same shades for the walls and shelves are a great choice, but they aren't the only option. If you're installing any type or border or decorative accent in contrasting colors, then match the shelf to that accent tone. This will bring more attention to the shelf and make it more visible while also giving the area a decorative touch. If your area consists of clearly marked regions with different colors, then you may want to match the shelves to their background for consistency. With five shades to choose from, it's easy to find the perfect color for your project.
If you're ready to add corner shower shelves to the design plans throughout your home, contact StonExchange today. When you work with our friendly team, you can count on receiving wholesale pricing and excellent customer service. We strive to maintain a stable inventory so that we'll always have the supplies you need in stock. We offer fast shipping options so that you won't have to wait long for your order to be filled, and you won't have to give up space in your warehouse by stocking up on shelves ahead of time. We can ship directly to your headquarters or your job sites in the field, so it's easy to get the supplies you need. Rather than letting your customers add plastic or metal shelves that leave rust marks and detract from the appeal of their home, you can provide them with the extra storage they need in a classy and timeless way.