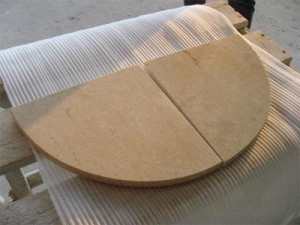 When designing a new shower, look beyond the usual storage options to include stone soap shelves. You may be thinking that your clients can easily buy an organizer and put it in place themselves, but the fact is that your clients will love your foresight and attention to detail when they see permanent stone shelves in place. Before you make the final decision on stone shelves or plain walls, consider these seven facts that explain why natural stone is the better choice.
1. No Rusting to Worry About
One thing many shower organizers have in common is their construction. The ones that are made of wire have a metal base that's coated in a more attractive material. Over time, this material chips away to leave the metal exposed. It starts to rust, the rust flakes off, and the organizer soon turns into an eyesore that needs to be replaced. This isn't a problem with natural stone shelves. The natural material is perfectly suited to wet environments, and it will never rust or start to fall apart. When other organizers have to be replaced, the stone shelf will still look amazing and be very attractive.
2. Greater Durability for Cost-Effectiveness
If shower organizers aren't made of wire, then they feature a plastic construction. The problem with plastic is that it will start to cracks and break after a few years of use. Once the plastic begins cracking and degrading, the entire organizer must be thrown out and replaced. Stone shelves last longer and look amazing for years to come. They'll never break down the way plastic does, so homeowners can continue using them for the life of the shower.
3. Easy Cleaning Homeowners Love
Plastic and metal shelves come with plenty of openings to allow for water drainage. While this effectively minimizes the risk of mold buildup, it also means that they're more difficult to clean. Every crevice becomes a haven for soap scum and even mold. Both sides have to be scrubbed, and the shampoo rings can be nearly impossible to remove if the chore is ignored for a prolonged period. One of the greatest benefits of natural stone is that it's resistant to mold, mildew, bacteria and stains. It stays clean longer, and it's easy to clean even if it's been left alone for a few weeks or longer. Draining isn't a problem because shelves are installed on a slight angle that encourages water to run off while allowing toiletries to remain neatly in place.
Another aspect of natural stone shelves that make them far easier to clean is the way they're mounted. Unlike tension poles, hanging caddies or anything with suction hooks, they simply jut out from the wall in a clean design. This makes them very easy to care for as there are no poles or hooks to work around. Homeowners can easily reach the tiles above and below for faster, easier cleaning.

4. Style That Cannot Be Matched
When homeowners buy any organizer, they're stuck with shelves that are at a fixed height and a look that cannot be altered. Natural stone shelves are tucked neatly into corners or along the walls at random heights, or people can opt for very specific looks. There is plenty of space around the shelves to store most items, and the color is certain to look great with the finished walls. Unlike plastic and metal options that stand out and look like a necessary evil, stone shelves blend beautifully and accent the walls in an impressive manner. They simply make the shower look more sophisticated while also serving a very functional purpose.
5. A Sophisticated Look
Natural stone shelves lend the shower a sophisticated look that potential buyers are sure to love. They add color, texture and a luxurious feel to any shower area. Aftermarket shelving systems simply cannot achieve the same attractive look that marble and granite naturally bring to any shower enclosure. If you're trying to make a more accessible shower system with a seat built-in, then you can build a bench seat that doubles as a spacious shelf.
6. Part of the Pattern
If you don't want the shelves to stand out, then you can change the focus and make them blend in, instead. While any aftermarket shelf is bound to stand out in an unattractive manner, this isn't an issue with natural stone. Choose colors and dimensions that can easily be worked into the overall pattern of the shower. With a little effort and creativity, you can make the shelves blend in with the shower walls and virtually disappear for a clean and fresh look.
7. Versatility Homeowner Adore
Standard organizers are typically limited to the corners or hanging over the showerhead. With natural stone soap shelves, they can be installed wherever homeowners want them for greater versatility. Place a line in one corner, or stagger them along a wall for a fresh look. Whether you decide to create a solid line of shelving along one wall or just a single shelf floating in the middle of the wall, consumers have the ability to sets shelves in the ideal position without worrying about hanging mechanisms or cumbersome poles.
When you're ready to start a renovation project or build a custom home, it's important to consider the little details. Whether you're doing the work yourself or hoping to impress a potential client, it's the small things in any project that can make a huge difference. While it's easy to install a basic shower wall and then add an aftermarket organizer later, stone soap shelves are a better choice for many reasons. The shelves add a sophisticated style that simple organizers cannot touch. They're easier to care for, very attractive, and incredibly versatile. When you trust StonExchange to be your supplier, you can expect to receive excellent service, quality materials, and wholesale pricing. Visit us online to review our inventory of natural stone shelves and see how a small touch can make a drastic difference in your bathroom remodeling project.