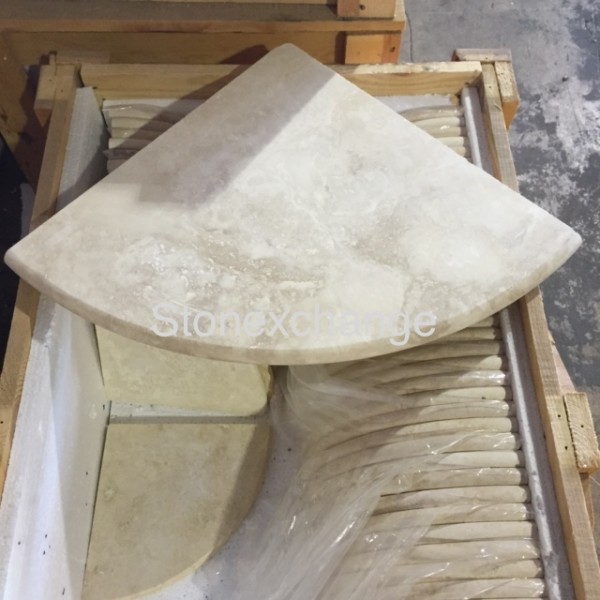 The true sign of an upscale hotel can be found in the shower room, which needs to feature natural stone walls in order to be worthy of being called luxurious. You can use various materials around the bathroom, but the shower stall has to be decked in high-quality stone, which can be natural or engineered. With this in mind, the last thing you want in a stone shower is to choose ceramic, plastic, metal, or laminate materials for the corner shelves, soap dishes, or shower caddies.
Marble Bathroom Accessories
Soap dishes, shampoo shelves, and shower caddies are not normally made of stone, at least not on a wholesale basis. Homeowners usually ask contractors to cut leftover remnants from flooring or countertop projects to make small pieces such as ashtrays, decorative ledges, or soap dishes. We are one of the providers of marble bathroom accessories in the United States, and we also offer these items made from engineered stone as well as granite and travertine.
Accurate Trims and Edges
Imagine a luxury boutique hotel project with 60 rooms that require two corner shelves in each shower stall. Cutting all these pieces from slabs and coating them with impregnating sealant will take quite a bit of work in addition to trial-and-error. At StoneXchange, we use precision cutting tools and automated processes to ensure that each piece is shaped to aesthetic uniformity.
Learn More About Our Natural Stone Products
At Stonexchange, we offer more than shower caddies and corner shelves for hotel projects. Our catalog includes colorful window sills and thresholds, which are also called door saddles, along with other stone products that you can use in various projects. Contact our South Florida office today to learn more about the items in our catalog and how you can order them.