Let's say you are working on a project that calls for shower rooms bedecked in fine Carrara marble. What kind of material would you choose for the requisite shower caddie or shelf? How do you find quality, style, and practicality rolled into one room?
Plastic or laminate materials are completely out of the question. Brushed metal has gone out of style. The most sensible choice would be to match the walls with natural or engineered stone, and these are the kind of solutions that StoneXchange offers to contractors.
Corner Soap Shelf Dimensions
Our natural and engineered stone soap shelves and caddies for the shower can also be installed in bathroom walls that feature stone panels. Our shelves are nine inches wide with a circular edge and a smooth bullnose trim. 
We also offer a seat-type piece for the shower that measures 18 inches from one wall to the next. The shelf dimensions provide a surface area large enough for a soap dish, shampoo bottles, and scrub sponges. Seat pieces give you twice the surface area.
Attractive Colors And Textures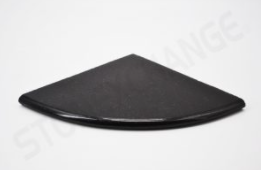 From marble to granite and from travertine to engineered stone, our soap shelves and shower seats come in a range of colors that can enhance the overall look of your bathroom projects. You can never go wrong with Carrara marble because of its creamy white coloring and soft veining, but we also offer other types of marble such as Crema Marfil and Emperador Light Brown. A dark granite shower room deserves our Absolute Black granite shelves. For the ultimate in durability, our Pure White Thazoz pieces are made of engineered stone that do not require resealing.
Learn More About Our Stone Soap Shelves At StoneXchange
In addition to wholesale stone shelves and shower caddies, StoneXchange also offers thresholds, baseboards, and window sills. We want to provide luxury to our clients, so that can install with the best material in the business. 
Should you have questions about our products, the ordering process, or custom pieces, please feel free to get in touch with our South Florida office.