Marble and granite window sills are an excellent way to lend a touch of class to almost any construction project. Hospitality and residential projects usually call for these in equal numbers. That means that any contractor, home improvement store, or wholesale buyer that hopes to have enough stone on hand to tackle their clients' needs will want to have plenty of these pieces on hand at any given time. Keeping a large supply of the following styles in stock is also a great way to stay ahead of all the current trends in interior design.
When it comes to the luxury market, construction projects offer a whole host of opportunities for installing marble window sills in the most expensive penthouses and neighborhoods that make up the high end of the real estate market. As marble is one of the most highly sought-after construction materials, especially in the luxury market, keeping in stock will be a breeze at Stonexchange, your dependable supplier of wholesale window sills and thresholds. We live and breathe in one of these luxurious atmospheres and know it well, but we remain ready to serve the whole of the U.S. market with delivery nationwide.
Luxury Home Decor Elements
When designers talk about the basic elements of design, they normally divvy things up into both indoor and outdoor arrangements. You'll want to consider both of these because even if you're putting marble in only interior spaces there's a good chance that prospective property buyers could see inside when they're out of a home.
Interior Elements
Any designer who is addressing an interior space has to consider the area itself to be an element in its own right. It's a physical boundary that defines a room. You'll also need to think about lighting, color, patterns and texture. Considering that the glossy texture presented by marble has a clean and professional look to it, that alone can serve to address multiple design elements at the same time.
Color-related issues could be solved by picking the right piece of marble as well.
Outdoor Elements
If you're installing marble only in indoor areas, then you'll want to give at least some thought to how people might see it if they were to peer through the windows or doors of a property. Those who are looking to put down stone pavers or exterior thresholds will also want to apply the same elements of color, texture, and pattern to their considerations. Though an outdoor area usually doesn't feature much in the way of boundaries, it's still important to think about these other elements.
It's also important to keep in mind that window sills are very often in a position that's quite visible from the outside. That's why you'll want the ones you install to be luxurious.
What Makes a Window Sill Luxurious
Appearance is the number one consideration when deciding if a windowsill is luxurious or not. It's important to remember that most people make impulsive decisions based on this, especially as far as design goes. That being said, durability is a factor as well. Over time, many types of materials will deteriorate. Marble, on the other hand, is far more durable than most other types of material so you can be sure that it will hold its luxurious look for far longer than polished wood or metal might, especially if treated properly by future property managers.
Six Luxurious Stone Window Sills
Take a look at all six of these fine options the next time that you're planning out a construction project at a luxury housing development. Any of them could theoretically fit into nearly any sort of arrangement regardless of your clientele's potential tastes.
Absolute Black Granite Window Sill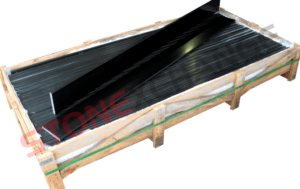 1) Absolute black granite windowsills are offered in both 37″ and 74″ cuts. These are made from a polished natural stone material with magnificent color. They're also available in 6″ x 74″ double-beveled curbs for special projects. If your clients need Black Galaxy Granite or China Black stone for a luxurious modern design, then this style should be a perfect substitute.
Crema Marfil Window Sill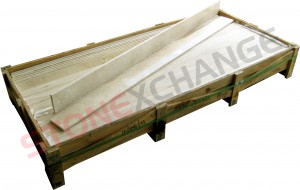 2) Crema Marfil windowsills can feature either a polished or honed finish, so they can serve many purposes. Some designers might want to play them up and make them glisten when they catch the light. Others may want to go for a more subdued look. They fit into any kind of beige interior either way.
Window Sills for Beach Mansions
The beach-facing mansions of the rich and famous are well known around the world and on tour for those who appreciate their grandeur facades. Let them marvel in wonder at Crema Marfil Marble Window Sills and Absolute Black Granite from Stonexchange. This opulent marble tile features veining of warm-colored tans, creamy beige hues, and the occasional deep brown and is complete with a polished or high gloss finish. In these mega-mansions where parties and paparazzi come to play, we recommend it for its durability with high traffic areas of the home.
Euro Beige Window Sill
3) Don't forget about limestone if you enjoy the look of beige. While a geologist wouldn't call it marble, Euro Beige is a natural stone. Window Sills made from it match well with Mocha Creme pieces as well as those made from Crema Europa.
White Carrara Window Sill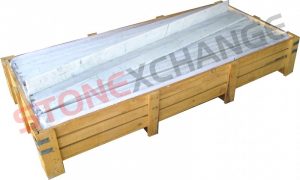 4) White Carrara is closest to the classic idea the term marble conjures up in many consumer's minds. It's got a sleek look with gray veining patterns that can fit into almost any design. This kind of marble is considered so flexible that many designers use it as a default if a client fails to specify what type of marble they'd like to use. Whether your luxurious new building project called for Cherokee marble window sills or Carbonia stone, White Carrara is an excellent neutral choice.
Window Sills For Luxury Condos / Apartments
An influx of those with disposable cash who want to be in the heart of the developing parts of the city has contributed to the demand for renovated and new developments in the trendiest and gentrified parts of downtowns. We recommend elegant Carrara White Marble Window Sill and Euro Beige Windowsills that have a polished or high gloss finish for these developments as each marble tile is perfect for its versatility when needed for repetitive projects such as multiple apartment units and in different rooms.
Travertine Window Sill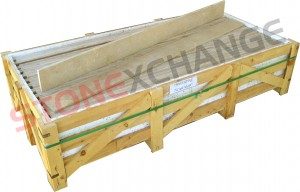 5) Travertine window sills are made from a type of natural stone that's commonly used for wall and flooring functions. Many designers make use of Travertine pavers at some point during their careers. If someone has tried to add an extra taste of luxury to a setting by using tiles and mosaics, then matching Travertine sills are typically needed to balance everything out.
Pure White Thasoz Window Sill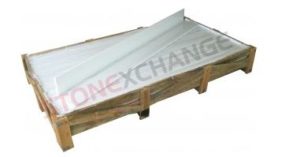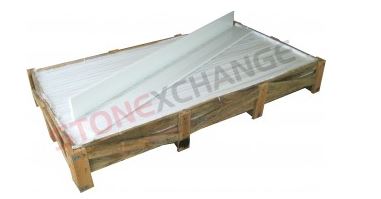 6), Unlike the other choices, Pure White Thasoz is a polished engineered stone that's made of a combination of glass and resin. It's preferred by many designs of high-end projects because it has a sort of optical white quality that's not normally found in nature. Interior designers working on luxury housing developments often demand windowsills made from Thassos marble. This material can readily do the same job without any modifications.
High-End Real Estate Neighborhoods
Like the stock market, the luxury real estate market is a pendulum of buy, buy, buy or sell, sell, sell! The Sotheby's and Zillow listings will boggle your mind with the prices of the most expensive penthouses and neighborhoods. Professional construction companies have built some of the most impressive homes with extensive customizations and always turn to marble window sills for their universal appeal and style.
For these projects, we recommend Classic Beige Travertine and Pure White Windowsills since they are natural stones with subtle variations. The rich tones with a wide range of styles and colors allow easy adaptation to the different tastes in decor.
Luxurious Marble Window Sills in Bulk
Don't start your next luxury residential construction without first learning about our value deals available now. We specialize in window sills, thresholds, soap shelves, shower seats, and other tiles, mosaic, pavers, etc. Whether you're a contractor, dealer, or developer, you're going to need to keep plenty of pieces in stock if you plan on meeting the demand for new luxury projects. Contact us at Stonexchange on the web today to get in touch with a friendly sales representative who can show you all the latest when it comes to high-end luxury windowsill products available in large lots.
Summary
Article Name
6 Marble Windowsills For a Luxurious Home Decor
Description
Marble windowsills are ideal for luxurious home decors and renovation projects. Learn about 6 recommended marble options, to fit all your designer needs and interior home ideas with Stonexchange.
Author