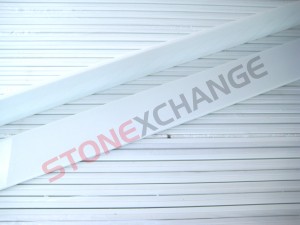 When you're working on a major hotel project, you'll require an incredible amount of thresholds. Every guest room will have a private bath with shower, plus you may need thresholds in the public restrooms, pool areas and any locker rooms. All in all, you may wind up ordering several hundred thresholds for just one hotel. In addition to choosing a durable material like marble, you'll need to work with a supplier that's committed to meeting your needs and can provide you with wholesale pricing.
Marble for Durability
Marble is a durable material that can handle the heavy foot traffic experienced by most hotels. Installed in entry doors, bathroom doorways and shower thresholds, it will stand the test of time and prove to be a low-maintenance item for future owners. It's more durable than wood because it's not porous and won't be harmed by water. It handles regular use and foot traffic better than metal because it's not prone to denting or scratching. Where other materials require regular maintenance to keep them looking their best, marble proves to be more cost-effective because of its strength and durability.
The Right Transition
When designing a hotel, you'll need different thresholds in different areas. A handicapped accessible bathroom may require a flat threshold that allows for easy wheelchair access. In another guest suite, you may want a double Hollywood beveled threshold that keeps the water back while minimizing blunt edges. In the locker room of the hotel fitness center, you may choose traditional raised thresholds that will keep the water contained in the shower and maintain a dry common area. Choose a supplier that can meet all of these needs.
StonExchange offers standard thresholds, double beveled edges, single Hollywood beveled edges, and double Hollywood beveled edges. We're committed to customer satisfaction, so we'll work hard to help you meet all the different threshold requirements of your hotel project.
A Luxurious Touch
When customers first walk into any building, they initially take in the overall feeling or impression of the area. As they move from room to room, however, they start to notice the little details. They'll take in the high-quality decor, the elegant furniture and even the marble thresholds that are used throughout the structure. When they see that the builder put this kind of care and investment into the construction, they're sure to be impressed. It's this little attention to detail that clearly demonstrates to customers that you're focused on quality, durability and style. It's a luxurious touch that can make a big difference, so the benefits of using marble saddles should not be underestimated.
Colors to Suit Every Décor
StonExchange offers natural stone thresholds in five different materials. The most neutral choices are generally travertine or Crema Sahara Marfil. These saddles feature a beige background with very light mottling or veining. They'll work with any decor today and in the future. If you're interested in making the transition between areas stand out more, then a white saddle will draw more attention and help you reach that goal. In this case, Nuevo White Carrara or Pure White Thazoz would both be excellent choices. The brilliant white colors are ideal for a more modern setting, and they're also commonly used in bathrooms. However, they can be used in lobbies and foyers to help clearly mark the transition from one section to another. Finally, we also offer traditional black granite that serves as an excellent contrasting shade to highlight key elements and accent certain features.
Matching Tones
The same beautiful finishes are also available for window sills. This allows you to match the window sills of any room to the door thresholds in that same area. You can easily purchase matching countertops to tie in shower thresholds for a hotel project. Matching materials and colors helps the finishing touches on any look. In addition to making the hotel more luxurious, you'll also make it more elegant while reducing the overall maintenance needs.
Wholesale Pricing
When you're investing in hundreds or thousands of saddles for a major project like a hotel, price becomes even more important. The difference of just a few pennies per saddle can start to add up and make a big difference in the project's budget. StonExchange is committed to helping customers save money by offering the most attractive prices we possibly can.
We're able to bring you wholesale pricing because we limit expenses at different stages of the process. We own the manufacturing centers overseas, and we offer streamlined processes that are more cost-effective. By cutting out the middlemen where possible, we're able to bring you lower prices.
We also take steps to minimize waste and prevent breakage. All saddles and windowsills are carefully packaged for shipment to ensure that you receive pieces that are intact and ready for use. While a certain amount of breakage is unavoidable, we do everything we can to limit it and help you save money.
Finally, we help you save on shipping. We offer sizes ranging from small crates to large containers, so that you can take advantage of the most cost-effective shipping methods. When you're stocking saddles for a major project, you'll save money with our bulk pricing and shipping options.
Custom Services
We strive to provide our customers with the highest level of service and care. We believe in providing you with the exact pieces that you are searching for. We maintain a healthy inventory of standard sizes and colors, but we understand that you may occasionally need something different.
If you're looking for saddles that are larger, wider or thicker, we can place a special order with our manufacturing centers overseas. Our professional finishers will complete your order to the same high standards as our regular inventory and package it for shipment to our facility or your job site. There is a minimum order requirement, but you'll enjoy the same low prices on high-quality products. This allows you to save even more money by limiting your labor on the job site and ensuring that you have the right materials on hand.
Commitment to Satisfaction
You probably have a lot riding on this project, so you need to work with suppliers who are committed to your satisfaction and will ensure that your needs are met. Our professional customer service team will work hard to ensure that you're taken care of and that you have the products you need in a timely manner. Whether you're ordering stock items out of our warehouse in Miami or need a custom order filled, we'll work hard to ensure that you're completely satisfied with our service and products.
Start your big project off on the right foot by working with StonExchange. We're focused on customer service and satisfaction, and our knowledgeable staff is happy to answer any questions you may have. We respond to calls and requests quickly, and most replies are made on the same business day. Contact us today to learn more about our available inventory and place an order.