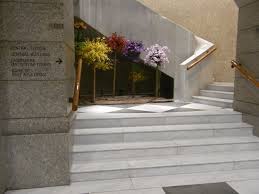 The hotel industry is quite competitive. This is especially true in Miami where most tourists expect nothing but the finest finishes. When looking to develop a hotel in the Miami area, there are many important factors that need to be taken into consideration. One detail that should not be overlooked are door thresholds, an important material that's installed at the bottom of a door that provides protection to the floor, and those who are walking through the doorway.
Natural Stone Thresholds Provide Durability
When you are looking for natural stone thresholds for your building project, there are a variety of selections like marble and travertine. One of the main benefits of marble thresholds is that they are durable and will last for years to come. Marble is a very strong material that does a good job withstanding water and absorbing a strong amount of force. This is ideal for a Miami hotel setting where there is a massive amount of foot traffic going from one space to the next on a daily basis.
The Lovely Appearance of Marble Thresholds
Another advantage of marble thresholds is that they will look great! While most people do not think of the appearance of thresholds, having a good quality marble threshold can be an amazing final touch to any room in a commercial space like a hotel. Marble thresholds can come in a variety of different colors and sizes that will help ensure that any designer will be able to find one that matches the decor of the room. Furthermore, the durability of the finished marble will help to ensure the thresholds continue to look good for years to come and will not lose their original and natural color.
Where to Buy Marble Thresholds in Miami, Florida
If you are looking for marble thresholds for your hotel or other development projects, contact a service representative at Stonexchange. We have a warehouse located in Miami, Florida that is open most days of the week during normal business hours. We have continued to develop a great reputation by providing marble thresholds to wholesale buyers. Some of our top customers include residential housing developers, hotel developers, architects, and contractors. By contacting our company, you can learn more about all of the products and services that Stonexchange can provide to your business.
We specialize in providing great products and services to our customers regionally and nationwide. Stonexchange focuses on providing marble thresholds, natural stone window sills and shower caddies that will speak to the luxurious and contemporary Art Deco theme that Miami hotels are so well known for. Choose from a huge selection of marble and travertine thresholds that are already in stock. You can also order any of our products to be custom cut to your preference. Stonexchange can provide exactly what you are looking for. Call and speak to one of our representatives today at 305-731-2400. You can also ask us a question online. Place your order with us today!