We all know how nasty those soap caddies can get after awhile. The buildup of different brands of soap, shampoo, shaving creams, body scrubs and other toiletries combined with the strands of hair it catches can make your shower caddy look like some type of subhuman species lives in your bathroom! Hopefully, your bathroom doesn't look that bad, but unfortunately there might be some that do!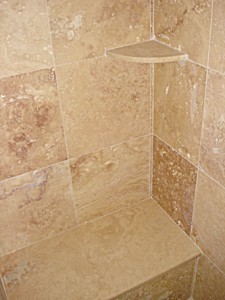 At any rate, when you're building a nice, high-quality residential home, don't leave it to your buyers to grow their own weird shower-caddy organism! Help them maintain a clean and relaxing bathroom complete with natural stone soap shelves that will rid them of the need to ever buy a shower caddy. 
What's So Bad About Shower Caddies?
Absolutely nothing if you don't mind switching them out every 6-months to a year, depending on how many occupants use the bathroom. 
Even the best kind of shower caddy won't last very long if you're into keeping up good appearances. Whether it's plastic or wire, it eventually oxidizes leaving behind unattractive rust stains. No matter how good of a job a homeowner or cleaning service does in tidying up a bathroom, those rust stains will always give the appearance of uncleanliness.
Natural Stone Soap Shelves, a Great Substitution for Shower Caddies
In any bathroom, especially for high-end residential homes, you need to add a touch of elegance to your bathroom designs by including natural stone soap shelves.
Now, normally, these kinds of finishings are included into a price where natural stone flooring takes up the bulk of the purchase. Such things like marble or travertine soap shelves might be looked at as an add-on for a builder—something that is somewhat of an optional finish. It may not increase the value of a home, and at best, will cause more work hours to install. As a result, this kind of a finishing is generally passed up because many builders think that it's not worth the time and money.
Why Invest in Natural Stone Soap Shelves? 
On the contrary, it actually is! While as a builder you may not see the immediate return on investment when installing natural stone soap shelves, your buyers will!
When potential homeowners are shopping for their new home, they envision themselves living in the empty space. They know just where they're going to place their personal items and prized possessions…and when they see built-in natural stone soap shelves, they know exactly where they're going to place their toiletries—and they know they're not going to have to shop for an expensive-looking shower caddy to match the décor of their high end bathroom.
Furthermore, buyers will be able to appreciate the solid look and fortitude that natural stone soap shelving offers. Whether it's travertine or marble shelves, this is the kind of material that will last a lifetime. It's the kind of built-in that will support the resale value because it's something that's not installed in many homes. It's a kind of finishing that's associated with high-end homes. That alone will bring an extra-added benefit to a home.
What Kind of Natural Stone Soap Shelves Can You Stock?
At Stonexchange, a natural stone wholesale distributor of soap caddies, window sills, and thresholds, we stock the type of natural stone soap shelves that are in high demand in the builders' market. Many builders are learning that sills do not have to be an exact match to what's been installed in the shower walls. Adding another color that's similar or even contrasting can bring another level of depth to a shower design. However, it's worth reminding builders and contractors not to get too creative with designs. Being too design-specific can repel potential buyers from a home. The more neutral you can be with your finishings, the wider range of buyers you can have and the faster you can sell the home.
Here are the type of natural stone soap shelves that Stonexchange carries:
                              Natural Stone Soap Shelves Inventory
                                            Windowsills.com
·         Carrara Soap Shelf – Shower Caddy 9" – 100pcs / crate
·         Ivory Travertine Soap Shelf -Shower Caddy 9" – 100pcs / crate
·         Walnut Travertine Soap Shelf -Shower Caddy 9" – 100 pcs / crate
·         Crema Marfil Soap Shelf – Shower Caddy 9" – 100pcs / crate
·         Pure White Soap Shelf 9" – 50pcs/ crate
·         Absolute Black Soap Shelf 9" – 50 pcs /crate
Didn't Find What You Were Looking For?
If you desire a different kind of stone soap shelf, we can custom cut one for you, but it will have to be manufactured at our quarry overseas. With any of our custom ordered products, it will take a few months of lead-time to cut and ship into the United State to our warehouse in Miami, Florida. This is something you definitely want to take into consideration when you make a bid on a fleet of residential or commercial homes.
All of Stonexchanges' natural stone shelves have a nice custom trim bullnose designed to smooth out the edges for safety. They are also designed with a slight slope to drain any water from the surface while still being able to serve as a sturdy shelf to keep all of your toiletries.
Buying your supply of natural soap stone shelves in bulk from Stonexchange will certainly save you money! Call and speak to a representative about placing an order today at 305-731-2400 or contact us online.