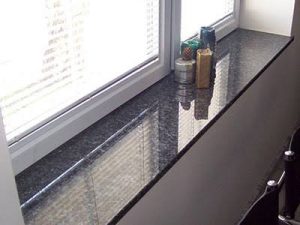 More people are choosing to make upgrades to their existing homes rather than going through the hassle and expense of moving. When you invest in the right renovations and changes, you can create a luxury space without disrupting too much of your lifestyle or filling out change of address forms.
While you may think of kitchens and bathrooms when it comes to smart renovations, the fact is that the smaller changes can also have a powerful impact on how you view your home.
If you're investing in new windows to make the property more energy efficient, then it's the perfect time to change the window sills and upgrade to granite.
While you may not have thought of granite before, there are several important advantages to using this timeless building material in your next home renovation project.
Granite Window Sills Provide Smart Looks Inside and Out
Granite sills aren't just visible from the inside of your home, they cover the entire span and are also viewed from the exterior of your home.
While wood may be the standard, granite is a top choice that will make any home exterior more impressive.
If you're in the market for new vinyl siding, consider how your house will look with strips of granite setting off the windows and dressing up the home.
If you're going with any type of brick or stone facade, granite will carry the stone look through and give your home a fantastic, finished look.
It's even one of the top options for stucco homes because it will make your property truly maintenance free.
Granite Sills Are Ideal For Existing or New Windows
It's easiest to replace the window sills when new windows are going in place, but this is by no means a requirement. You can also have granite put in place with existing windows.
This is easier when you're having the siding replaced, but it can also be a project that stands alone, so you can still make the upgrade even if your windows and siding have already been replaced.
If you're building a new property, then talk to your contractor about using natural stone for the window sills and thresholds throughout the home.

Durability and Beauty
When it comes to granite, you can have the best of both worlds. It's possible for you to get the durability you expect in an attractive package that will never fall out of fashion.
Granite is routinely used for exterior projects because of its ability to withstand regular exposure to the sun and other elements.
It may have moved to the interior of the home in the form of counters and floors, but it remains a smart choice for exterior projects as well.
This means that you won't have to worry about the exposed granite of your window sill fading, cracking or rotting.
It also means that the interior section of your windowsill won't fall victim to dry rot or other problems caused by regular sun exposure.
It will look just as beautiful in 15 years as it does today with just a tiny bit of maintenance.
Minimal Maintenance that's Easy and Affordable
Granite is known for being maintenance-free, but this isn't entirely true. While it can certainly last for decades without any care, you may want to invest in just a touch of care to keep it shining and attractive.
Wood needs to be stripped, sanded, cleaned, and repainted or stained. Vinyl eventually wears down in the sun and will have to be replaced if it cracks. Granite, however, requires nothing more than a quick cleaning and the application of a protective sealer.
The sealer gives the granite added protection from UV rays and helps prevent stains. While it's not necessary on a structural level, it is suggested in order to keep the granite looking great.
Never Paint Again
One of the problems with traditional wood sills is that they need to be repainted every few years in order to keep it looking nice. Many people also paint the sills every time they change the color in a room.
One of the greatest advantages of granite is that it will look great with any décor, so you'll never have to paint it again. Changing your décor will be faster and easier because you'll be able to take that particular chore off the to-do list.
It Adds Your Home Value
When it's time to have the property appraised, you'll be surprised at the little details that your appraiser will look at. Upgrades like granite windowsills can give your home value a slight boost.
When it's time to sell the property, this little detail also will appeal to potential buyers. It can help your home sell in a timely manner and at a slightly higher price.
When you make this type of investment, it sends the message that you care about home maintenance and keeping your property in top condition, and that can only work in your favor when you're trying to sell.
A Sharp Look
The most obvious benefit of granite may also be the best one: it simply looks nicer than wood. It works with any décor and all types of window treatments.
Whether you're going with simple Roman shades or luxurious floor length drapes, your new windowsills will look incredible.
It also gives any room an upscale feel that you're sure to appreciate.
If you've been looking for a decorative touch that's elegant and sophisticated, this is one that you're sure to love.
Considering Cost
If you're worried about the cost of granite window sills, then you'll be pleased to learn that there are some easy ways to save on this material.
You may be considering buying the window sills one room at a time, but you may qualify for bulk discounts if you order all the required sills in a single purchase.
If you have family or friends who are considering making this upgrade, you can work with them to negotiate a more attractive discount.
Avoid Local Retailers
Rather than going to the local supply store for your granite sills where you'll have to deal with price markups and transporting the materials, you can contact us here at Stonexchange for wholesale pricing and direct shipping.