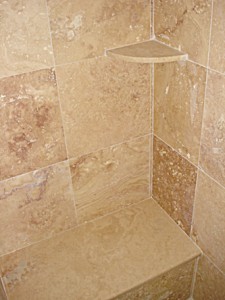 When it comes to storage in your shower area, there are several options to choose from. Traditionally, the built in storage was limited to a single soap dish or aftermarket shelving. However, the soap dish holds very little, and aftermarket shelves that hang on the showerhead or mount with a pressure rod are often unsightly and difficult to clean. If you're in the process of redoing your bathroom, then this is the perfect opportunity to improve the shower experience by going with Natural Carrara stone soap shelves. These shelves are available for the corner or to mount along the length of one wall, and they're sure to make the shower more attractive and elegant. Here are a few design ideas for incorporating lovely stone shelves into your shower area.
A Double-Duty Seat
If you're working on a larger shower stall, prepare for whatever the future holds by installing a stone seat. Supported by the proper framing, you can easily design a seat that will hold the body weight of most adults. Topped with the white marble stone, the seat will look amazing and prove to be extremely functional over the coming years. Having a seat in the shower comes in handy for shaving or if you want to pamper your feet with a good scrubbing, and the extra space on either side can easily be used for storing shampoo bottles and other toiletries. An added bonus of this design is that the shower can also be used by people with limited mobility, so you can be confident that the bathroom will continue to suit your needs as you age.
Low and High
The placement of the shelves should allow you to comfortably reach the shampoo and washcloth. If you're finishing off a tub, then consider putting at least one shelf on a lower level so that you can reach your favorite toiletries from the tub. However, you'll also want to have at least one shelf at a higher point for your morning showers. Not only will the shower shelves be more functional, but they'll also give the entire shower a more impressive and sophisticated appearance. Stack the shelves directly above each other, or place them on opposite corners for a more interesting and modern touch. Another option is to place a few shelves along the corner that rises up from a shower bench seat.
Recessed Options
Shelves don't have to jut out into the shower space. Maximize the open area and maintain smooth walls by recessing the natural stone shelves into the wall. Finish off all sides of the shelf with Natural Carrara to make the space seem larger and more luxurious. If you want the shelf to blend in with the shower more, then fill the back of the shelf with the same tile or natural stone that graces the shower walls. A simple recessed shelf will make any shower look more impressive, but you don't have to limit yourself to one. Add one to each wall, or put a few on the same wall for additional storage. One particularly impressive option is to make the recessed space very tall and install several shelves at varying heights to create plenty of storage and an attractive space.
For a more creative look, create two recessed shelves one above the other. Make the lower one very shallow and the upper shelf three times taller. On a connecting wall, reverse the pattern for a sophisticated look that will suit most modern homes. If you want a more traditional look, then go with a single recessed shelf that spans one wall and provides you with plenty of storage space.
The Full Span
Corner shelves are a popular option because they provide a great deal of storage with minimal intrusion. However, you don't have to limit your elevated shelves to the corners or just a small part of the wall. Consider running the shelf along the full span for the greatest coverage, excellent storage and a unique look. Go with a narrow shelf if you're placing this along the longest wall, or you can move it to the end of the shower to enjoy the benefits of a deeper shelf. You'll break up the vast span of tiles to add visual interest, and you'll ensure that you have all the storage space your shower needs.
One, Two, Three
If you need multiple shelves, then consider staggering them at different heights on one wall. You'll accommodate the needs of everyone using the space, and you'll create a more unique look. This design works well on the end wall, but you can also create this look on the primary wall if you want it to stand out. Use Natural Carrara stones on a white or cream wall if you want the shelves to blend in, but mount them against a contrasting color if you want the shelf pattern to stand out more and become a focal point.
Outside the Shower
Tie together the décor in your powder room by using Natural Carrara stone shelves in other areas, as well. Placing a matching shelf between the sink and mirror is a great way to finish off the bathroom and give it a cohesive look. Corner shelves can be placed over the commode, and you might want to add a stone shelf below the window for your perfume bottles or a few decorative items. The white finish on Natural Carrara will work with any décor, and it's sure to make your bathroom look more sophisticated and refined.
Whether you're going to build a shower seat, go with narrow shelves or just add storage to the corners, StonExchange has the Natural Carrara stone accessories that you need. We offer wholesale pricing, and we strive to provide our clients with the highest level of customer service. Orders are filled promptly, and we hope that you'll be pleased with our attention to detail. We fill orders of all sizes, but you can order in bulk to save more. Contact us today to discuss your design plans and see how Carrara marble can help make your home more attractive and sophisticated.