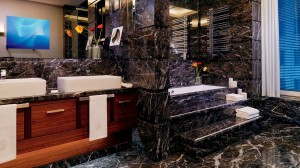 Window sills are a forgotten area in most homes, but they can become their own architectural embellishment. Even without adding a bay or bow window, you can still increase storage and display space by going with an elegant window sill that overhangs the wall. Whether you're renovating your own home or you're a general contractor, you'll find that bumping out the sills is an easy way to add visual appeal and make a space feel more elegant. Here are some decorative ideas for the window sills in your upcoming project.
Wider Sills with Angled Cuts
Make a small window seem more impressive by extending the sill out on either side. This is a particularly attractive option for windows that are set close to a corner. Start by rounding off the wall coming into the window to eliminate sharp corners and let more light in. Then, run the window sill out to match the point where the wall starts to curve in.
The extra window sill along the wall can be used to hold picture frames or other small items. Make the element stand out more with a bold support apron below the sill. This vertical piece helps draw the eye down so that the window seems even larger. Rather than leaving the edges blunt for a standard square look, you can round them off or angle them sharply up towards the outer ends of the sill. The angles should match up with the edges of the window to help balance out the entire effect. You'll be left with a stunning look that fits in any traditional or modern home.
Go Thicker
Marble window sills are a great choice because they're durable. They can withstand a bit of moisture and a great deal of sun exposure. However, you don't have to go with standard 5/8" thick sills. Another option is to upgrade the windows' finish by going with a heavier sill. Use the vertical support apron below the window to help dress up the space and make it stand out more. You can match the finishes, or go with contrasting colors for visual appeal. Consider using Nuevo White Carrara sills along with a White Thazoz support for a more substantial look.
Rather than simply installing the vertical piece directly to the wall, you can also build it out with a slight frame. By bringing the edge forward and carrying it down a few inches, you can turn the window into a focal point that will enhance any room.
Frame out the Entire Window in Marble
Marble is commonly used as the window sill, but you can also use it around the entire window. There are several reasons why homeowners might choose to go with marble, granite, or travertine window frames. You'll appreciate that these frames will:
Never require painting or staining
Be extremely easy to clean and care for
Prove resilient and resistant against sun exposure and pests
If you're going with custom built windows, then you might also want to consider installing marble as the interior casing and even the head jamb. It will give any room an upscale look that you're sure to appreciate.
Another option is to install the windows flush together and eliminate the supports in between them. You can create a long and attractive ledge while maximizing the amount of light coming in. The streamlined look works well with modern homes and minimalistic themes.
Let the Sills Tie Everything Together
If you have multiple windows that are close together, then let the windowsills tie everything together. Accomplish the sharp look by running a continuous windowsill underneath all windows. The outermost edge should come in front of the supports for a cohesive look that suits all types of homes. You can also go with a slightly wider sill to make a bold statement.
Use it in the Plant Window
Windows with very wide sills are typically finished off in wood, but you can change this trend. Whether you're going with a bay, bow, or plant window, consider finishing off the sill or seat with marble. You can order marble and travertine window sills that are up to a foot deep, and that will help you make a great statement on your custom window. This is ideal for windows that will hold planters because the marble can easily be sealed to prevent water stains. Small spills from the plant holders are also easy to clean off this solid surface.
Contrasting Colors
The inclination is to use matching shades on your window sill and frame, but contrasting colors will also look amazing. If your kitchen has black countertops, then you can tie everything together by using black marble window sills throughout the space. Complete the look with bold black hardware.
Matching the Wall
Bathrooms and kitchens frequently have tile or natural stone on the walls. Rather than breaking up the color scheme with a bright white sill, consider just matching the stone to the wall. Emperador Brown makes a durable black splash, and you can carry it right into the window by using it on the sill, apron, and stool. With a nice routed edge on the sill, you'll add visual appeal while allowing the eye to flow up the wall and smoothly into the window space.
Here at Stonexchange, we specialize in sills and door thresholds. We have the attractive colors you want, including black granite, Bardiglio Gray marble, travertine, and Nuevo White Carrara marble. We can customize the sizes to suit your needs, and we're able to maintain a steady inventory of sizes.
Give us a call today at 305-731-2400 to place your order. You can also visit us online to learn more about our company and see how you can enhance all types of renovations with marble window sills.