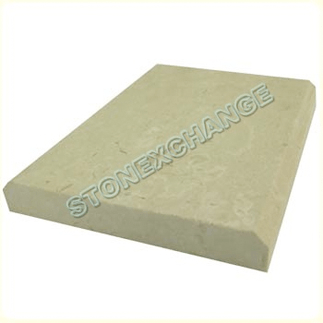 Crema Polished Marble Window Sill at Wholesale Prices
Window sills made from natural stone are an excellent investment for both homeowners and commercial property owners. The cost of installing beautiful stone sills is about the same as when wood or composite materials are used. Best of all, the price of marble window sills is within the reach thanks to the direct import and distribution service provided by Stonexchange in Miami.
Our company works directly with overseas quarrying and fabrication companies, and we import bulk shipments of some of the world's finest natural stone. Window sills are our specialty, and we carry a full line of the popular crema shade stone in all of the most commonly used lengths and widths.
To understand the origin of our crema Marfil polished marble sill, we have to think back to the days when ancient Roman builders selected construction materials. We know that Romans admired the architecture of the Egyptian and Greek civilizations; to this effect, they made extensive use of marble quarries all around the region that is now known as Lazio. Both Egyptian and Greek builders used natural stone for window sills, but they reserved their most elaborate designs for temples and other sacred structures. The extensive use of natural stone by the Romans resulted in decorative window sills, and they often paid attention to the overall interior design effect; instead of cutting pieces from the same granite, marble, and limestone blocks they used for the building structure, they often chose a stone that differed in color and patterns for the purpose of injecting contrast into living spaces.
Crema Marble Is In High Demand
Polished marble sills are trending because the use of natural stone is enjoying a strong comeback. At Stonexchange, we have noticed greater demand for stone sills as well as thresholds. We continue to carry engineered stone sills, which are also called "quartz," but there is no question that homeowners and interior designers have been favoring marble in recent years. Marble has a timeless appeal, particularly white Carrara flooring tiles and countertops, but when it comes to applying a nice accent to a living space, crema Marfil polished marble sills are currently on top.
Crema shades are beige, meaning that crema Marfil will blend in very nicely with other neutral tones used for interior decorating and accenting. Cream or beige tones are often used for flooring tiles, and the complementing window sills can become one of the primary accent colors in the room. Our Crema Sahara Marfil is a great match for building plans specifying Botticcino or Bursa shades.
When expertly polished, Crema Sahara Marfil is lustrous and smooth. The veins stand out nicely from the cream color of the stone, giving the impression of an expensive, elegant, and stately accent to the indoor environment. This shade of marble is very much in demand in the United States and elsewhere, and because of the bulk import service available from Stonexchange, this material is now more affordable than ever before.
Although rustic interior design is currently very popular, most people prefer a polished finish when it comes to window sills, particularly with crema Marfil, a stone that is slightly reminiscent of the limestone slabs that once covered the great pyramids of Egypt. Even if your marble flooring and countertops feature a brushed or natural finish, you still want polished marble sills; the reason behind this interior design practice is that you want sunlight to reflect off the sill surface.
Building plans often call for a cream shaded window sill with a high polish. The instructions may also specify the use of a single bevel, double bevel, or Hollywood style sill design. We carry both the standard sill – with squared corners – and the popular curbs and thresholds that have single or double bevels on the long sides. The curbs and thresholds can be used as floor saddles, shower barriers, and even custom sills.
Advantages of Using Marble Sills
Natural stone is a wonderful material for use as a sill because of its durability. When properly installed, it works as a water-tight barrier against moisture intrusion from the outdoor environment. It does not chip or crack, does not fade over time, and helps to maintain the structural integrity of the entire window frame.
One of the common problems with wood sills is their tendency to bow or expand when subjected to extreme temperature or humidity changes. This eventually allows water to seep into the sheetrock from outside. This most commonly occurs when the window frame begins to slowly buckle as a result of structural settling.
Replacement can be costly, as expensive as the original installation process. It makes financial sense to use a material that will not expand, crack, or buckle. Natural marble stone is the obvious choice for making sure a window frame remains weather-tight and sealed.
You may have heard about marble's propensity to stain with various liquids; this is one of the reasons we noticed marble countertops falling out of favor and being replaced by granite and quartz slabs in the 1990s. The truth about marble is that it is a metamorphic rock with a porous surface. What this means for homeowners is that certain substances, including water, can seep through the surface and cause staining or even etching of marble, but this is only when the surface has not been treated with a sealant. The last step of the marble finishing process involves applying an impregnating seal for the purpose of protecting the stone. Moreover, homeowners can now reseal their natural stone surfaces with a spray-and-wipe solution; this is something you will only have to do once a year.
Crema Marfil Sills Blend With Interior Accents
The primary reason cream shaded marble is so popular as a sill material is because its medium shade blends perfectly with both light and dark colors of furniture, wall accents, and decorations. If the walls themselves are white or near-white, the sills and flooring tiles act as a shade stepping stone between the light walls and the darker furniture. When Crema Sahara Marfil is given a high-quality polish, the look is one of total opulence.
The popular color choices for window dressings are white, off-white, or dark. Once again, this color complementing with the wall color and the shade of the marble sill is quite positive when crema is incorporated into the living space. The visual effect is quite striking when the same material is used for floor tiles and for thresholds separating the marble from carpet or hardwood, but you can always go with a contrasting material instead.
Available Sizes and Styles – Crema Polished Marble Window Sills at Wholesale Prices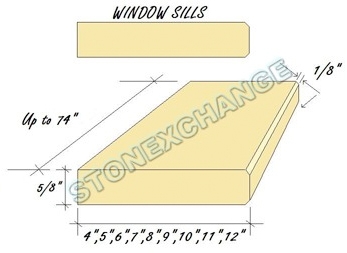 Window sills extend beyond the width of the window frame, meaning that the lower frame can support the weight of the sill even though the marble itself cuts into the adjoining sheetrock. Considering the standard widths of today's window frames, the popular lengths of marble sills are 37-inch, 60-inch, and 74-inch. Stonexchange carries all three of these lengths, and our standard sills are 5/8-inch in thickness.
Our 37-inch sills are available in 5-inch and 6-inch width. These same widths are available on our 60-inch lengths sills as well. Our longer 74-inch length sills come in widths ranging from 5-inch to 10-inch.
These marble sills are obtained from larger, thicker slabs of granite, cut into appropriately sized stripes, and given a high-quality polish. This process is completed at an overseas manufacturing facility. The finished sills are packed into large ocean freight containers and sent to our Florida-based distribution center.
As many as 40-50 full containers of marble sills occupy our warehouse at any given moment. We ship full crates of sills to area retailers, construction companies, and outlet supply chains. Larger containers filled with hundreds of pieces of material are often ordered by contractors requiring a large amount of marble for an entire residential or commercial complex.
Information for Commercial Clients
Wholesale pricing on bulk delivery of fine-quality crema Marfil window sills is what we at Stonexchange are all about. In addition to our unbeatable per-piece material cost, we offer rapid overland shipping to all destinations in the continental United States. Our large inventory means the prompt filling of orders.
Using a direct importer and distributor means:
• Immediate processing of large orders
• Lower freight costs
• Ability to set up an ongoing delivery schedule
Home improvement centers, flooring product retailers, and private installation companies benefit from using a direct importer of marble products because full crate loads can be sent on a moment's notice. Order processing generally takes only a few days, and our in-house quality assurance teams personally inspect each order before it leaves our distribution facility. Cost estimates given upon receipt of order requests allow for minimal breakage because our shipping procedure guarantees against an inordinate amount of damage.
Our overland freight partners give us a break on shipping costs because we are constantly sending product to destinations across the country. We pass these savings on to our customers. The per-piece cost of obtaining fine-quality crema Marfil window sills has never been lower.
Construction companies benefit from ordering in full crates because the development of a new residential or commercial property is often divided into stages, with the budgeting for material purchase likewise divided into segments. Reordering the same product several times over a period of six months or a year is never a problem because we maintain a full inventory throughout the calendar year.
Non-standard size window sills can be fabricated by our manufacturing partners overseas. This generally requires a lead time of two or three months, but the per-piece cost of these shipments is the same as for our standard size window sills and thresholds. Mixed orders containing requests for matching sills and thresholds are also processed at the same per-piece cost as our standard full-crate, single material type orders.
This makes it possible for even the smaller contractors and retail flooring/interior merchants to obtain top-quality crema Marfil window sills made from beautiful, natural marble at a cost far below what many competitors offer. Another advantage of ordering full crates of marble sills is the ability to separate the pieces according to their individual textures and patterns, making it easy to find the perfect match to accompanying floor tiles or thresholds. Getting the correct match between sills and floor tiles is important and large orders mean an assurance that excellent matches will be found when it comes time to finish an interior unit.
If you are a homeowner, we can connect you with one of our authorized dealers and distributors in Florida and around the country. We do not provide our products at the retail level.
Contact Us for an Immediate Quote
Stonexchange is in business to supply commercial clients with the finest quality marble sills, thresholds, and curbs at fantastically low prices. We are a wholesaler dedicated to providing beautiful polished marble on a timely basis, whether it be a one-time order or a continuous restocking of material required by merchants. Feel free to contact us for accurate pricing and shipping information on full crates or large containers of crema Marfil window sills made from exceptional quality natural marble stone.