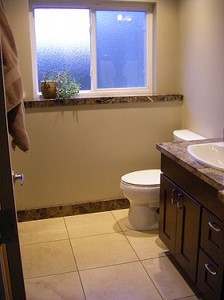 Almost everyone knows that bathroom corner shelves are great for holding toiletries. However, you won't find too many marble distributors giving you creative advice about how you can use theses corner caddies. Most wholesale suppliers are more interested in giving you the measurements and how much they have on hand.
That's not necessarily a bad thing. But, it might be helpful to understand what all you can do with marble corner shelves along with all of the creative ways you can install them before trying placing your order. You might end up needing more than what you originally thought.
What Kind of Marble Distributor Should You Use?
Stonexchange, a marble corner shelf distributor is based in Miami, Florida where this kind of a product, in particular, is in high demand. Because of this, we know what most buyers prefer and what they'd appreciate—even if they've never thought to use a marble corner shelf in such creative ways.
Here, you'll find 9 helpful uses about how marble corners shelves can benefit your dream bathroom:
1. Eliminates Cheap-looking Shower Caddies.
Almost every bathroom has that shower caddy hanging from their showerhead. You almost expect to see it in every bathroom. Where else would your buyers keep their fancy creams and lotions? Sure, there are plenty of options: on the ledge of the bathtub is usually the default shelf. But where do you put your shampoos and body soap if you have a claw foot tub?
Have you ever thought of that?
I suppose we'd go right back to the shower caddy. They come in a variety of styles and materials: nickel-finish, a plastic-coated white, and the steel—all of it will rust over an extended period of time. Then things just start looking kind of gross…The next thing you know, you're replacing your shower caddy with yet another disposable one. And in 6 months, repeat! Instead, start considering natural stone shower shelves.
2. A Marble Shower Corner Shelf Can Hold Your Towels.
Your marble corner shelves don't always have to be for wet things. Depending on how large your shower is, you might be able to afford to install a marble shower caddy towards the back of the shower where water can barely reach—unless you have the kind of bathroom with multiple shower heads, then that's a totally different situation. At any rate, if you get a big enough marble corner shelf, you won't need to worry about tip-toeing across your bathroom floor dampening everything in your path to grab your towel, or worse using your toilet bowl as a towel holder!
3. Create The Most Stylish-looking Medicine Cabinet Ever!
Who says that medicine needs to be locked away? Not all bathrooms have medicine cabinets anyway. So where would you keep such items? In cases like this, you have to use your creativity. This is where marble corner shelves can make a big impact. Of course, this will have everything to do with how your bathroom's footprint is laid out. For instance, if your sink is up against a corner, then you can easily install a few marble corner shelves there. However, not all bathrooms are built the same. Many vanities are up against a flat wall. In that case, you'd install it in the next assessable corner that not only makes sense but also looks good!
4. Install Marble Corner Shelf Above Your Toilet Bowl.
Let's face it, there are some things that need to be in close proximity to the toilet bowl! Why not install a decorative marble corner shelf above the toilet? You can get rid of that make-shift bathroom caddy that you have standing over the toilet bowl too. It's fashionable and opens up space in an already cramped room.
Quite a few people find that they're cramped for space once they move into a new home. Even spacious homes sometimes run a little short, largely because the designers didn't give future property owners sufficient space to put all of the sundries they need to manage their day to day lives. For instance, you could have a massive bathroom that lacks shelving space altogether, which makes it hard for people to find a position for things they actually require to live there.
By providing them with this extra opportunity, it becomes much easier for people to move in and enjoy using their new property. Many homeowners will even find creative uses for a shelf placed here, so it can really add some value to a property.
5. You Know You Need A Shower Seat.
You just do. So, you might as well get a professional to install a beautifully crafted marble shower seat to make it look good. This way, you can avoid having your bathrooms look like a nursing home.
Keep in mind that people often don't like to use adjustments that were planned in a way to be obtrusive. By making them as unobtrusive and integrated as possible, potential property owners will feel much more comfortable with these accessibility features. They'll also be able to keep them much cleaner than they might otherwise be able to, which is excellent news for anyone who has to deal with sterility problems related to shower stalls. It's a simple adjustment that can help quite a bit once it's been finished and completely installed.
6. Your Loofa Ball Needs A Home.
The only reason it might be OK for loofa balls to touch while they hang tangled over a showerhead is that they are colorful. Would you want your wet towel to be draped over someone else's? Probably not. You can install several marble corner shelves above and around the bathtub, allowing every family member to have his or her own designated toiletry shelf.
Plenty of other options can go here as well. People might want to rest their scrubbies or other items on a corner shelf, especially if everyone has a dedicated one to use in their shower. It's an excellent opportunity to provide everybody with a little area that they can use without worrying about the sanitation of other ones. Considering all of the attention that's being paid to keeping things clean and sanitary these days, that might be something that property buyers begin to demand in the future. Real estate agents won't be too far behind, which is why you can take the chance to get ahead right now.
7. The soap! Don't forget the soap!
Not everyone uses liquid body wash. Some people still prefer the old fashioned use of bar soap. That is all the more reason to install multiple marble corner shelves into a shower. Like a toothbrush, most people prefer to have their own bar of soap. In this case, they'll certainly need somewhere to place that slippery thing! The corner shelf. That's it! Your buyers' families will be able to set that bar of soap right next to the rest of their toiletries.
Of course, those who don't use bars of soap won't be left out of the rain either even if they do prefer a little liquid body wash or traditional shampoo. Any type of light bottle or similar container can fit on one of these shelves, which should prove to be quite attractive to those who have preferred more modern types of cleaning products. Even those who want absolutely natural soaps won't mind, though, since the marble will be so easy to clean compared to everything else that they've worked within the past like this.
8. Decorate!
Perhaps the purchasing family isn't all that big in numbers after all. Now, they have all of these marble corner shelves with more room in their shower than they know what to do with. In that case, use some of that extra space to place some beautiful ferns there. Stage your bathrooms to make your buyers feel like that they're purchasing an oasis!
Plenty of interior designers complain about how some spaces are just hard to decorate for various reasons. They might say that someplace lacks any chance to decorate or doesn't have any sort of ornamentation. Just the marble corner shelf being installed there alone might very well be a good idea since it's a focal point that would be hard to miss.
9. Perfect For Shower Stalls.
Showers stalls have limited space, so every bit of square footage is precious. Even a shower caddy cannot always provide enough real estate to stock all of your toiletries. Installing marble corners shelves in your shower stalls will look great in your new bathrooms.
In many cases, you'll be able to fit these in almost any sort of circumstance because they are very versatile. That should make it easy for architects to find a place to position them no matter what.
Shopping for Marble Corner Shelves
In case you were wondering, your marble corner shelves do not always have to match the tiling in your bathroom. Get creative and find colors in your bathroom that might otherwise be overlooked. Take a look at Stonexchange's online inventory of marble corner shelves and shower seats here. We even have travertine stone!
Place your order with us online or use our convenient contact form today. You can even request a free online catalog here.