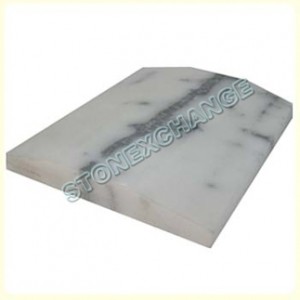 When you are looking to design a new home, there are many details that must be taken into consideration and carefully assessed. One important detail to consider are the thresholds below door frames throughout the home. While they are often overlooked during the development process, door thresholds provide a variety of benefits and can add a final detail and sense of style to any home. One great threshold option to consider is the Double Hollywood Bevel Thresholds that have features to provide a variety of benefits to any home.
1. Protection for Two-Way Traffic
One of the advantages of Double Hollywood Bevel Thresholds is that it will provide you with protection for two-way foot traffic. A standard threshold is a piece of stone or other material that will sit at the bottom of a doorframe and will lay the length of the width of the door. A standard threshold will be up to one-inch thick and poses a little bit of risk that someone could stub a toe or trip on the bevel due to the thickness.
A Double Hollywood Bevel Threshold is the ideal option for doors that are situated in the middle of a home and can experience two-way traffic. With a double-beveled threshold, the front of the threshold on both sides of it will start at less than half an inch in width on both sides and then will ramp up to the full inch in thickness in the middle. This will help prevent someone from injuring himself or herself or tripping on the threshold.
2. Quality Materials and Durability
Another reason why Double Hollywood Bevel Thresholds are a good option is that they are of high-quality materials and quite durable. When you purchase a threshold from Stonexchange, you will receive a quality product that is made of natural stone and available in a wide variety of finishes. Marble thresholds are durable and can withstand years of people walking through doorways. Furthermore, they are resistant to water and will continue to look great for years to come.
3. Style Options
With Stonexchange, you will have different color and style options to choose from. Door thresholds are a great finishing detail that can help bring any room together. When you purchase Double Some of the most popular marble color options available today include White Carrara, Pure White Thazoz, and Crema Marfil.
If you are interested in learning more about the benefits of Double Hollywood Bevel Thresholds, then contact a Stonexchange representative. We are a Miami-based company that specializes in providing natural-stone window sills, thresholds, and soap shelves to developers, architects, wholesale buyers, and individual consumers. You can either visit us at our warehouse located at 9605 NW 13th Street in Miami, or call us at 305-731-2400. Our offices are open from 9am to 5pm Monday through Friday. You can also contact us online to learn more about how to purchase your bulk Double Hollywood Bevel Thresholds at a wholesale price.