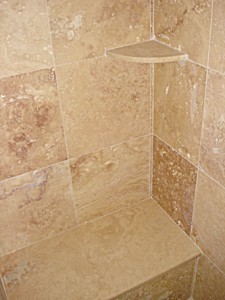 Shower caddies come in all shapes and sizes, but you don't have to settle for anything that hangs on your plumbing lines or uses pressure rods to hold it between the ceiling and tub. Rather than searching for after-market solutions that look bland and feel cheap, go with the custom treatment that looks luxurious, will last as long as the shower, and is easy to clean.
Curved Shelves Fit Perfectly in the Corner
Curved shelves from Stonexchange, a natural stone manufacturer of window sills, thresholds, and shower caddies, fit perfectly in corners and are the ideal solution to your storage needs. Available in a 9" radius, they're ideal for storing soap, shampoo, and even bath salts. With the angled lines and smooth flow, there aren't any sharp angles to worry about. The shelves can be set at any height, so you can satisfy families with young children and adult-only households alike.
Perfect Blend with Shower Walls
One of the challenges with any aftermarket solution is that it won't match the walls. If you're lucky, you can get it to match the tub, but the contrasting colors may not work with the overall design. With luxurious built-in marble shower caddies, you can coordinate colors that will blend seamlessly with your walls.
The result is an appealing look that will work today and in the coming years. The showers you create will have that professional finished feel that your customers demand, and you can be confident that they'll work with any type of design.
We carry a range of color patterns for you to choose from. When you start a new hospitality project or are ready to embark on a new phase of custom homes, stock up on these shelves so that you'll have them on hand.
Our stone solutions include:
Carrara marble
Ivory Travertine
Walnut
Crema Marfil marble
Pure White Thazoz
Absolute Black Granite
Rounded Corners Stores More and are Easy to Clean
Another benefit of the rounded corners is that they hold more than simple triangular shelves that travel across in a straight line. The curved edges jut out into the shower slightly so that your customers can store extra lotions and potions without any wasted space.
We cut our edges into clean bullnoses so that they're easy to clean. Water will roll right off, but the accessories will stay neatly in place. When it's time for your clients to clean them, they just have to wipe them off with a clean cloth. Your customers will appreciate this feature as much as they love how the corner shelves look.
Customize the Layout
Depending on the project you're working on, you may install the shelves alone or as part of larger groups. While a single shelf standing about four feet off the ground looks fine, your clients may prefer to have a grouping of two or even three shelves near the shower head. Another option is to divide and conquer by putting one or two shelves on either side of the enclosure. This is an ideal solution for smaller homes where multiple family members may share one bathroom. Whether you go with a single shelf or mimic the look of a ladder with five or six shelves, you're sure to love the finished results.
Not Just for Showers
Installed neatly into the tile walls, these luxurious caddies aren't just for shower walls. They can be used in any corner of the home. Install one near the bathroom sink or commode for extra storage. If you're not finishing those wall areas in tile, then just use tile aprons underneath them for additional support. In bathrooms with separate tubs, they're a great addition to the corners above the whirlpool tub. They can be added to any corner of your kitchen, bathrooms, and even the patio to create a more luxurious look and improve storage options.
Add a Matching Seat
If you're going to be finishing a shower project in travertine, then consider adding some matching seats. Our curved shower seats feature an 18" radius. Ensure that your shower is suitable for anyone with poor balance by including a handy seat in the shower. As with the shelves, the seats feature a bullnose edge and a smooth finish. They look great and are very easy to clean.
Buy in Bulk to Save
When you embark on a major project, start by placing your bulk order for shower caddies. You'll have supplies on hand for when you need them, and you can save a good deal of money by ordering more than 50 at once from Stonexchange. You won't have to worry about shortages, and you'll have the supplies on hand to show potential customers when pitching your ideas.
Treat your clients to something special by installing Stonexchange shower caddies in the powder room. They'll love the extra storage and be impressed with your forethought. Whether you choose to go with a single shelf or a powerful statement made with four, you're going to love how they look and function.
Stonexchange shelves feature a full 9-inch radius for more storage and a luxurious look. Visit us online today to learn more our options, or call our agents directly at 305.731.2400 to discuss your needs and place an order. If you're outside of the South Florida area, dial 305-731-2400. We'll help you put the perfect finishing touch on all types of custom projects, hospitality centers, and custom homes.