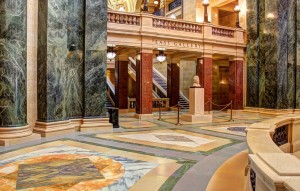 You may be surprised to learn that cost-efficient renovation and high-end appeal aren't mutually exclusive. When you're looking for purity and sophistication, you can't go wrong with Pure White Thazoz window sills. This stark white, blemish-free material is an engineered stone that has the upscale, modern aesthetic of Thazoz marble at a considerably lower cost, and it's exclusively manufactured by Stonexchange.
The Advantages of Installing Pure White Glass Window Sills
Commercial builds and upscale residential renovations are leaning more toward pure white accents for a variety of reasons. For one, this material is highly reflective, which is an advantage in the hot South Florida climate. Another factor is the colorful ambience of Miami, which acts as a balance against accents of cool, neutral white.
Outside of the aesthetics of placing crisp white accents in a tropical environment are the structural advantages of installing engineered glass window sills. This material is extremely durable and reduces water absorption to zero. This protects the integrity of window casings in a humid climate that's prone to severe weather. Because it's a manufactured stone, it's more resistant to scratches and wear. But, our pure white window sills are not just for windows.
Bringing Modern Sophistication and Elegance to Your Decor
Whether you're constructing a new executive office building or hotel or renovating a luxury residence, few things say 'fresh" like stark white. Because it is a bold color choice, this dazzling material should be used judiciously and sparingly for best effect. However, that doesn't mean that it doesn't have a wide range of application when it comes to renewing your decor. It's also a viable and cost-effective substitution for Pure White Thazoz marble that has a comparable longevity and appearance.
More About Natural Stone Window Sills
The purity of this color enables a nice contrast to colorful room decor, especially with rich carpeting and painted walls. Although the intensity isn't suitable for framing and entire window, the range of widths, from 5 to 18 inches, means you can incorporate a narrow strip of solid white at the base of a window or create an eye-catching window seat or mantle piece.
Pure White Window Sills in the Kitchen
The current trend for modern kitchens is a monochromatic color scheme of black and gray with stainless steel accents. Make this look a little bolder by incorporating a pure white back splash or add a little natural beauty with a deep-set window sill decorated with fresh herbs in colorful pots.
Use Pure White Window Sills in the Bath
White bathrooms don't have to look sterile and forbidding. Imagine the elegance of a bath tiled in Bardiglio gray on the walls and floor, trimmed in crisp white. In addition to bringing in the sun to what might otherwise be a drab color choice, these tiles can act as a wall accent to break up the montage of gray, as a baseboard, or to trim a black granite pedestal that supports a solid white tub.
In Your Foyer or Lobby
No matter if the decor is traditional and classic or futuristic, Pure White glass window sills will make it sparkle. An expansive lobby that's tiled in black and white or gray looks stately and elegant with tall, deep-set windows trimmed in pure white. Does your project call for an Absolute Black Granite welcome desk? Add a little touch of brilliant white. Due to its lightness and stain-resistant properties, pure white window sills also work in wellness centers, medical facilities, and restaurants.
Versatility and Value With a Pure Aesthetic
All of our window sills are crafted for quality, appeal, and versatility, and these are no exception. These are the only sills that come solely in a 74-inch length, but they cut like glass for superior adaptability and customization. Each is manufactured to a standard thickness of 5/8″ and packaged in lots of 50 per crate. The available dimensions are as follows:
– 74 x 18 x 5/8 inches
– 74 x 10 x 5/8 inches
– 74 x 8 x 5/8 inches
– 74 x 6 x 5/8 inches
– 74 x 5 x 5/8 inches
We also craft Pure White glass window sills in 74″ X 6″ x 5/8″ curbs. All pieces have a polished finish and are pristine white with no veins or spots. The minimum order requirement is one full crate.
Order Your Building Materials Hassle-Free
Stonexchange is proud to be a premium wholesale window sill and threshold manufacturer, importer, and distributor in Southern Florida. Our distribution center is in Miami. When you deal with us, you're cutting out the middle man and working directly with the source. Our associates are knowledgeable stone experts, and we've served the community for more than a decade.
Have Your Pure White Window Sills Shipped Safely to You
We ship securely nation-wide at standard common shipping rates that we've negotiated to a very competitive price. You can view our selection via our online product showcase or visit our showroom and talk to us in person. We're located at 9605 NW 13th Street in Miami, and our business hours are Monday – Friday, 9:00am – 5:00pm at the showroom or 9:00am – 4:40 pm at our warehouse.
For fast, professional service from anywhere in the country, contact us and fill out an online form for more information on any of our products. Requests received before 4pm EST time will be answered the same day. Call us today at 305-731-2400.