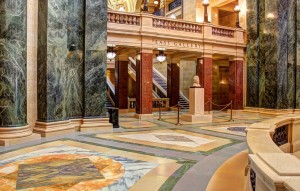 When you're building or remodeling an exclusive hotel in Miami, there are 5 things that you need to take into consideration:
First, you have to understand that this is an exclusive hotel located in Miami, a city that is not only one of the largest populated metropolitan areas in the state of Florida, but also has it's own flair for fashion that rivals Los Angeles and New York. So the type of guests that will most likely come visit such an exclusive hotel in Miami are people who may have traveled all over the world and have experienced their share of 5-star luxury hotels. So if your client is wishing to build an exclusive hotel in the Miami area and expecting to house high-end clients, then you have provide quality finishes that rival luxury hotels around the world.
How Do You Incorporate Quality into a Hotel Build?
What do we mean by quality? Marble, of course! When it comes to constructing a public building that's designed to attract high-paying buyers, then incorporating marble into your build is an absolute must. Aside from its beauty, marble is extremely durable. With minimal maintenance, marble window sills provide a regal elegance to an exterior and interior space.
The Miami style is known for its Art Deco design. While this is an iconic 1960's theme, Miami is also respected for its contemporary scene. So in order to merge these two classic styles, you have to incorporate a timeless material that can naturally bring it together in a cohesive fashion that will impress hotel patrons.
Why Marble Window Sills are a Smart Investment
Investing in marble window sills is going to be one of the best purchases for your exclusive hotel building project. They not only provide a most needed function, they also offer tons of character making the hotel uniquely elegant. Because marble comes in an array of color pattern variations, you have the flexibility to use your marble window sills in creative ways.
Use Different Size Window Sills to Make an Impressive Impact
Stonexchange, a manufacturer and wholesale distributor of marble window sills, stocks an abundant supply of standard size window sills in 36", 56", and 74". But if you're looking to "wow" hotel patrons, then consider ordering custom marble window sills for every size window you have. Take it a step further and order a wider window sill that will provide more top surface and a wider lip. For foyer spaces that don't require a window covering, line the windows all around with marble window sills to create a dramatic effect serving as an attractive focal point.
Marble building materials are always going to cost more than the standard, but there's a reason why. Marble last longer and hardly ever needs replacing. So you're not only investing in the beauty of a product, you're also investing in the longevity of it. You're simply buying a better kind of material. As a result, you can expect to pay more for it. But there is a way to get quality marble window sills for your exclusive hotel build at a discount price.
Marble Window Sills are Easy to Store
Stonexchange offers generous discounts to purchasers who buy our marble window sills in bulk. Packed securely in crates of 50 and 100, marble window sills won't take up much warehouse storage. When ordering in bulk, you'll be able to afford the money and the space to stock your marble window sills.
Receive Your Bulk Supply Quickly!
Stonexchange stocks standard-size window sills at our Miami warehouse, so bulk orders can be shipped out at a moments notice and sent directly to your building site or warehouse if you prefer. When ordering your marble window sills from us, it's important that your warehouse is equipped with the lift equipment needed to unload the items from the delivery truck to your location. Whether the delivery destination is at your warehouse or at the building site, you'll need a dock so that your bulk order of marble window sills are transported safely.
Finding a marble window sill supplier that has a consistent supply that matches the quality of other exclusive hotels is a challenge. Hotels have a lot of windows and you'll need a supplier that has access to their own quarry to maintain that consistency. It would be a bad idea to order a supply of marble window sills from one distributor only to learn that they have run out. Then you'll have to search for another wholesale supplier that has enough quality marble window sills in stock to fill your order. Having mis-matched marble window sill screams the exact opposite of high-end luxury. It will look like a patchwork of various tiles carelessly slapped on a building. You don't want that.
When it comes to building an exclusive luxury hotel in the Miami area, there's a certain look that's cohesive with the area: bright, sleek, and sexy. The monochromatic look is widely popular in the Miami area. So the natural selection for marble window sills will be Pure White Thazoz, Black Granite, and Nuevo White Carrara.
The maintenance required to take care of marble window sills are minimal. It's actually more important to remember what NOT to clean your sills with so that you don't destroy its lustrous surface. The rule of thumb for cleaning marble window sills is to avoid ALL acidic cleaners—even the natural ones. That means vinegar, lemon, all-purpose cleaner—all of it! Any acidic substance will slowly seep into the surface and adopt the color of the liquid while slowly eating away at the top finish. The best and easiest way to care for marble window sills is to dampen a soft cloth with warm soapy water and you're all set!
Talk to a Stonexchange representative to discuss ordering a bulk amount of luxury marble window sills for you hotel building project today at 305-731-2400, or contact us online!