A new kind of construction is sweeping the nation. As people are becoming more environmentally conscious, the appeal of tiny homes is on the rise. They're also an inexpensive way to own a home and a way for people to live an adventurous life without having the commitment of a mortgage. This appeal has been coined as the Tiny Home Movement.
Tiny Homes are custom-built mobile homes that the structure of a traditional residential dwelling. Instead of being built on a solid foundation, tiny homes are built on mobile trailer that can be towed with a heavy-duty flatbed truck. Depending on the size of the tiny home, heavier machinery may have to be rented in order to transport it from one location to another.
Tiny Homes Typically Means Tiny Windows
Everything on a tiny home is, well…tiny. Almost everything needed to build the home is customized, including the windows. This means that custom-sized window sills will be needed, and if you're venturing off in the business of building tiny homes, you're going to need a lot of custom window sills, especially if you're looking for quality.
Tiny Windows? You're Going to Need Tiny Window Sills
Tiny homes aren't that expensive to build, because not much material is needed. The size of a tiny home can range from anywhere between 100 and 400 square feet. This usually gives some tiny homeowners the opportunity to use quality material that they may not otherwise be able to afford in a traditional standard dwelling. Marble window sills may be one of the upgraded options.
Standard size window sills come in lengths of 36", 56", and 74". So it is with marble window sills.
Need a Tiny Marble Window Sill Distributor?
Stonexchange, a natural stone manufacturer of marble window sills, thresholds, and soap shelves, stock an abundant supply of quality marble and travertine window sills in our Miami warehouse. Because of our convenient location, we have the means to ship our marble sills out anywhere in the continental United States and even in the Caribbean.
When it comes to stocking marble window sills for tiny homes, this is not yet an item that is readily available to ship out at a moment's notice simply because of it's custom size. Tiny homes are so custom specific, that the size of windows is often designed in a variety of sizes. As a wholesale marble window sill manufacturer, we can certainly fill your custom order for quality bulk window sills, but it will take a couple of months a lead time because we'd have to cut your sill at our quarry that is located overseas. The upside is that you'll get these sills at the lowest wholesale price possible.
Set Your Own Standards!
Stonexchange highly recommends that all tiny house builders to offer your own "standard size" tiny window sills so that you can buy them in bulk at a discount price. This will ultimately save your business money on building material expenses.
You can still provide a custom design when it comes to offering your clients their dream tiny home. Many tiny home builders get really creative when it comes to designing their home. Repurposing is a major factor in building tiny homes. Utilizing the building materials that you've already invested in can serve as inspiration for your client to use marble sills as shelving for kitchen to stock spices, or in the bathroom to be used as a fancy vanity shelf or medicine cabinet.
What Kind of Window Sills are Available?
If you're worried about stocking the wrong kind of marble sills, don't be. Stonexchange has a specific type of sills available to purchase at a wholesale price, even for your tiny home windows!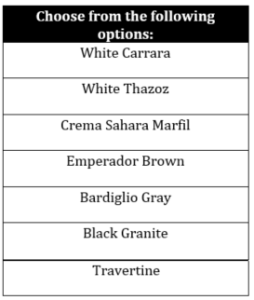 According to our data, these materials are proven to be the most popular choices for builders in the industry. Any of these material colors is sure to complement the design of your client's tiny home.
You've Got Length, Now Consider Width
Since space is at a premium in tiny homes, you can also custom order a wider width of your marble window sills to serve as a multi-purpose space. A wider sill can be used as a bookshelf, as a desk, or if you build a large feature window, it can be used as a window seat or even as the base of a tiny couch adorned with beautifully designed fabrics and pillows.
The tiny home movement is all about creativity. By stocking a certain set of marble and travertine window sills, you'll offer your tiny homeowners more options than a standard builder would. This results in boosting the quality of your construction company's brand and if you're lucky—revenue!
The More Options You Have, the More Clients You'll Get!
As the saying goes: The early bird gets the worm!
If you stock your warehouse with quality marble and travertine window sills, you will most likely be the first choice among a competitive band of contractors.
The key is being able to immediately provide your clients with quality window sills; and having them readily stocked in your own warehouse is going to allow you to move from one tiny house project to the next without needing to wait for a shipment to come in.
Be prepared and stock the quality sills you need, and then stock a little more for any repurposing ideas!
Place your custom order of tiny marble window sills today. The representatives at Stonexchange is available to answer any questions you might have Monday – Friday from 9 am to 5 pm EST, at 305-731-2400, but you can contact us now through our online form, and we'll get back to you as soon as possible.