Double Hollywood Bevel Thresholds
Stonexchange is the best stone engineering manufacturer in Florida. We work with a wide variety of stones to make professional window sills and thresholds that best suit your house or workplace.
Thresholds are pieces placed below doors to separate rooms. The reason you would want a threshold is so you have the liberty to change the type of flooring in each room with something symbolic in between to let others know they are crossing into a different space. A threshold is a simple structure yet a powerful concept. Explore our various options below!
Double Hollywood Bevel Saddles Granite And Stone
Absolute Black Granite Thresholds
Black Granite is a natural stone found in southern India. It is very popular and commonly used to make kitchen countertops. We appreciate the color and luxurious feel so we wanted to create a threshold from this beautiful stone. The bevel is double Hollywood meaning the threshold is curved with a flat top, this lessens the risk of people falling or tripping when crossing over.
If you have a checkered flooring this Black slate threshold will look absolutely stunning and will do a great job at dividing your kitchen from your bathroom or the living room from the bedroom. You can freely choose a different flooring for the other room for the threshold will divide the two. Plus, the color makes it easy for people to spot.
Crema Sahara Marfil Thresholds
"Crema" is cream or beige in Spanish. This Marble threshold in beige has a more neutral tonality making it very versatile and adaptable to a multitude of colors, patterns, and floor material.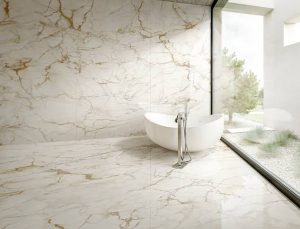 The threshold is made out of marble which means that it will not absorb humidity like wood often does and since it is a stone made under high pressures it is very durable and will remain unaffected if you use chemicals when cleaning your floors.
Nuevo White Carrara Thresholds
Marble thresholds are very classy. White and gray intertwine to make this beautiful design. You may have white marble flooring on one room and gray marble on another room, now imagine this Nuevo White Carrara threshold in between separating the two rooms. You can combine similar designs and have them meet at the threshold or have strikingly different colored flooring, either way, this threshold is elegant and will look very nice in your workspace or home.
Pure White Thazoz Thresholds
You can never go wrong with pure white thazoz. It has a polished, clear color and will match any type of flooring you choose. The material of this threshold is engineered stone but it is almost identical to marble stone. We sometimes prefer engineered stone because in some cases it can have less of an impact on the environment to make since we create them out of unused quarts.
Make The Change To Stonexchange
Stonexchange has got your back if you would like to request a consultation. We know everything when it comes to stones and trimming them to make them into the perfect window sill or threshold for your space.
If you would like a custom marble threshold or have any questions about how wide should a marble threshold be, comments or concerns contact us and our friendly customer service will assist you.